| | | |
| --- | --- | --- |
| | canberrabirds | |
FW: Southern Kelly's swamp at Jerrabomberra Wetlands
| | |
| --- | --- |
| To: | Canberrabirds <> |
| Subject: | FW: Southern Kelly's swamp at Jerrabomberra Wetlands |
| From: | Geoffrey Dabb <> |
| Date: | Fri, 12 Aug 2022 00:26:50 +0000 |
As Sandra says, a vantage point is available from the main track, as shown here. An advantage of this for the photographer is that Telstra Tower can be incorporated in the shot. (The tower is indicated here for benefit of out-of-town subscribers to this chatline.) The point of including the tower is that it proves the species was snapped in Canberra, even if it is a rarity, perhaps recorded here for the first time.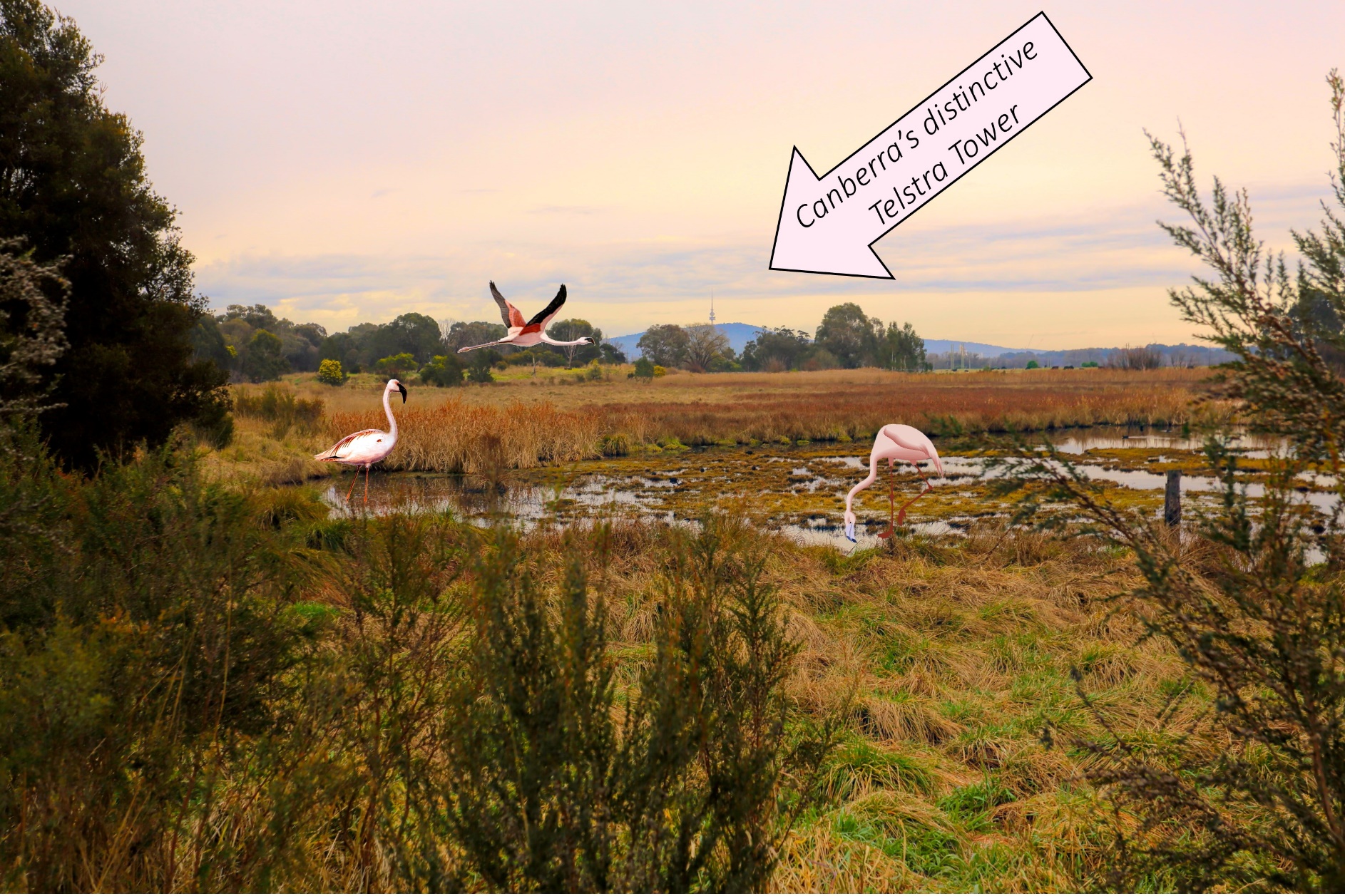 From: Canberrabirds <> On Behalf Of sandra henderson via Canberrabirds
Sent: Wednesday, 10 August 2022 3:39 PM
To: Mark Clayton <>
Cc:
Subject: Re: [Canberrabirds] Southern Kelly's swamp at Jerrabomberra Wetlands
The barrier at the little track at the end was in place before the recent rain event. That little "track" has developed informally over last 2-3 years, and it's no real problem to look from main walking track a little further on, rather than encroaching on the edge of the swamp. I've often thought it was only a matter of time before it was blocked off.
Sandra h

On Wednesday, 10 August 2022, Mark Clayton via Canberrabirds <> wrote:
I would imagine that after all the rain it is probably quite boggy at that end and ACT P and C don't want to have the area ploughed up and damaged any further than it already is.

Probably not a bad idea to put in an extra hide at the southern end and preferably with two levels. Anyone who has been to Hasties Swamp NP at Atherton in North Qld will know the brilliant 2 storey hide there. To be perfectly honest, I am surprised that the hides already at Jerrabomberra Wetlands haven't been vandalised or even burnt down!!

Mark

On 10/08/2022 1:15 pm, Rob Geraghty via Canberrabirds wrote:

I notice that an attempt has been made to stop people accessing the southern end of Kelly's swamp. Has any consideration been given to building a hide in that location?
I see that there's been quite a lot of trail damage from the downpour last week.



--
This is the email announcement and discussion list of the Canberra Ornithologists Group.
Emails posted to the list that exceed 2 MB (2,000 kB) in size, including attachments, will be rejected.
All emails distributed via the list are archived at http://bioacoustics.cse.unsw.edu.au/archives/html/canberrabirds. It is a condition of list membership that you agree to your contributions being archived.

Canberrabirds mailing list

https://lists.canberrabirds.org.au/mailman/listinfo/canberrabirds

ATT00001.txt
Description: ATT00001.txt
<Prev in Thread]
Current Thread
[Next in Thread>

Southern Kelly's swamp at Jerrabomberra Wetlands, (continued)

Southern Kelly's swamp at Jerrabomberra Wetlands, sandra henderson via Canberrabirds
Southern Kelly's swamp at Jerrabomberra Wetlands, Fokker, Miriam via Canberrabirds
FW: Southern Kelly's swamp at Jerrabomberra Wetlands, Geoffrey Dabb
Southern Kelly's swamp at Jerrabomberra Wetlands, Graham Gall
Southern Kelly's swamp at Jerrabomberra Wetlands, Fokker, Miriam via Canberrabirds
Southern Kelly's swamp at Jerrabomberra Wetlands, Rob Geraghty via Canberrabirds
Southern Kelly's swamp at Jerrabomberra Wetlands, Ian Fraser
Southern Kelly's swamp at Jerrabomberra Wetlands, Graham Gall
Southern Kelly's swamp at Jerrabomberra Wetlands, Geoffrey Dabb
Southern Kelly's swamp at Jerrabomberra Wetlands, Graham Gall
FW: Southern Kelly's swamp at Jerrabomberra Wetlands, Geoffrey Dabb <=
FW: Southern Kelly's swamp at Jerrabomberra Wetlands, Geoffrey Dabb
Admin
The University of NSW School of Computer and Engineering takes no responsibility for the contents of this archive. It is purely a compilation of material sent by many people to the Canberra Ornithologists Group mailing list. It has not been checked for accuracy nor its content verified in any way. If you wish to get material removed from the archive or have other queries about the list contact David McDonald, list manager, phone (02) 6231 8904 or email . If you can not contact David McDonald e-mail Andrew Taylor at this address: andrewt@cse.unsw.EDU.AU