I believe Sandra is correct. Construction of the present 'barrier' would not have strained the works budget, indeed was probably budget neutral. A small, weathered advisory sign moved from nearby and a few garden stakes dipped in Dayglo Pink.
On the general issue, those who followed the planning discussions in 2012 will remember the debate about arrangements for this area. Should it be developed to promote education/access or designed for what is loosely called 'conservation' - that is safeguarding of foraging and resting birds and other wildlife from disturbance, including by birdwatchers and photographers?
In the 'I have a dream' category, it is possible to imagine a patch of serene preserved habitat where birds forage and rest oblivious to silent and invisible watchers in elaborately constructed hides, screened by dense natural vegetation. Oblivious also to the sounds of joggers and exercisers from the nearby suburb, uninterested in the wildlife. Initial target: '650 dwellings in 2025-2026' between the railway corridor and the wetlands. https://the-riotact.com/government-seeks-community-views-on-east-lake-plans/577013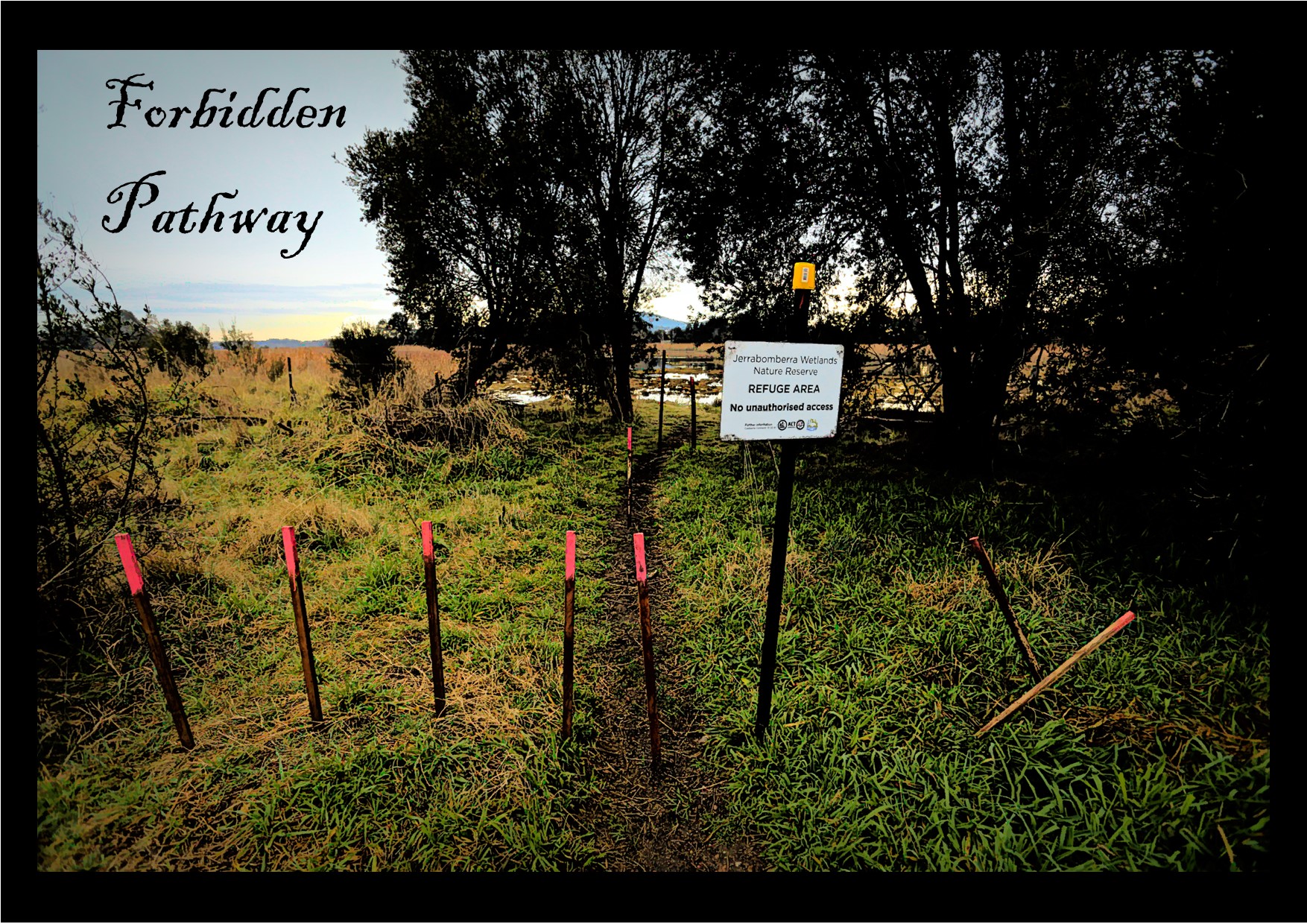 From: Canberrabirds <> On Behalf Of sandra henderson via Canberrabirds
Sent: Wednesday, 10 August 2022 3:39 PM
To: Mark Clayton <>
Cc:
Subject: Re: [Canberrabirds] Southern Kelly's swamp at Jerrabomberra Wetlands
The barrier at the little track at the end was in place before the recent rain event. That little "track" has developed informally over last 2-3 years, and it's no real problem to look from main walking track a little further on, rather than encroaching on the edge of the swamp. I've often thought it was only a matter of time before it was blocked off.
Sandra h

On Wednesday, 10 August 2022, Mark Clayton via Canberrabirds <> wrote:
I would imagine that after all the rain it is probably quite boggy at that end and ACT P and C don't want to have the area ploughed up and damaged any further than it already is.

Probably not a bad idea to put in an extra hide at the southern end and preferably with two levels. Anyone who has been to Hasties Swamp NP at Atherton in North Qld will know the brilliant 2 storey hide there. To be perfectly honest, I am surprised that the hides already at Jerrabomberra Wetlands haven't been vandalised or even burnt down!!

Mark

On 10/08/2022 1:15 pm, Rob Geraghty via Canberrabirds wrote:

I notice that an attempt has been made to stop people accessing the southern end of Kelly's swamp. Has any consideration been given to building a hide in that location?
I see that there's been quite a lot of trail damage from the downpour last week.



--
This is the email announcement and discussion list of the Canberra Ornithologists Group.
Emails posted to the list that exceed 2 MB (2,000 kB) in size, including attachments, will be rejected.
All emails distributed via the list are archived at http://bioacoustics.cse.unsw.edu.au/archives/html/canberrabirds. It is a condition of list membership that you agree to your contributions being archived.

Canberrabirds mailing list

https://lists.canberrabirds.org.au/mailman/listinfo/canberrabirds