And good morning Steve
Actually no. The pointless choice would have been Pacific Black Duck. I omitted to mention it was quite soggy under the Redwoods …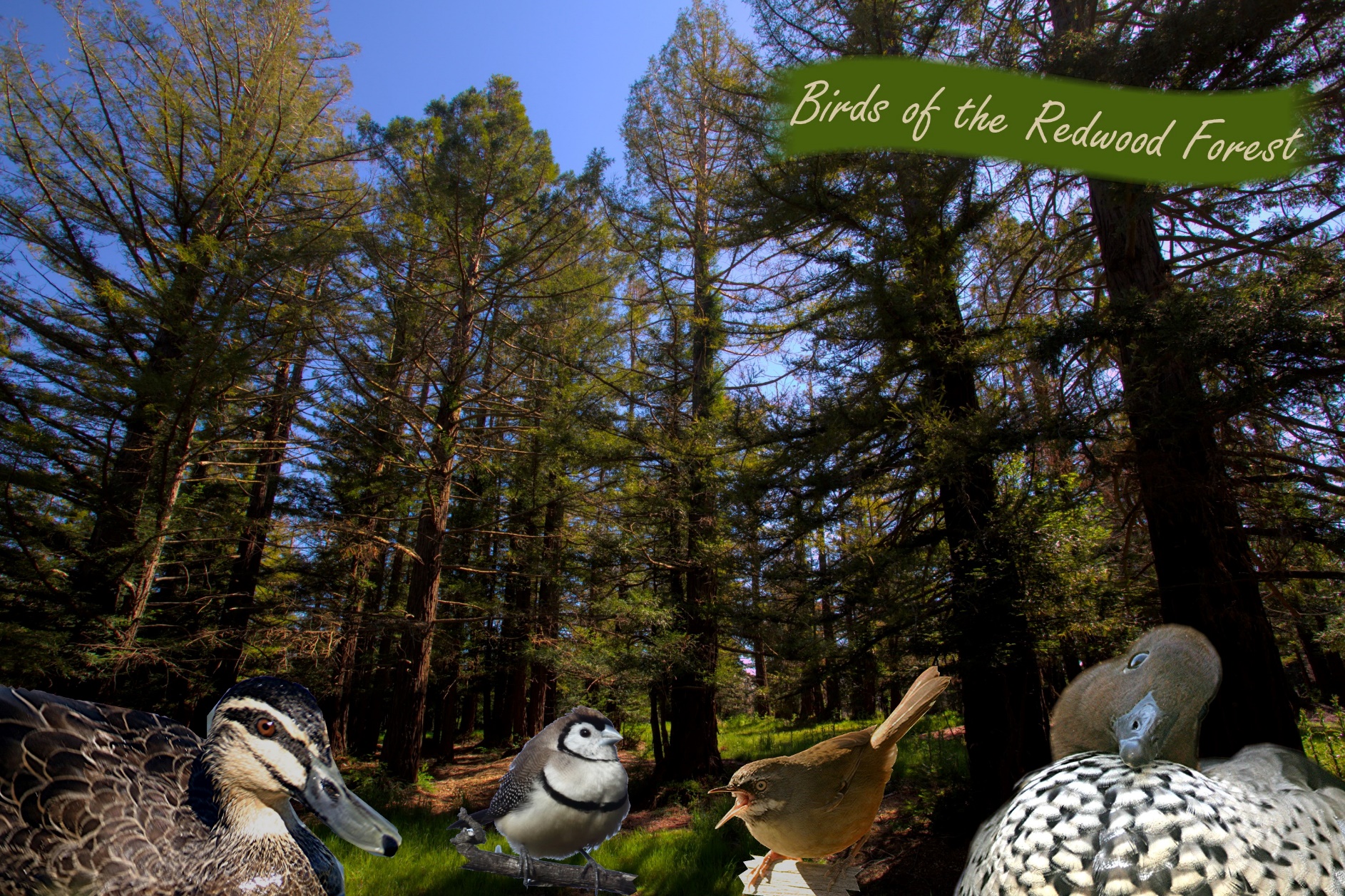 From: Steve Read <>
Sent: Wednesday, 27 October 2021 8:09 AM
To: 'Geoffrey Dabb' <>
Subject: RE: [Canberrabirds] Blitz weekend
Good morning Geoffrey
Have you had provided the best or correct answer to your quiz below? I would have selected White-bellied Sea-eagle, had I entered…
Regards
Steve
From: Canberrabirds <> On Behalf Of Geoffrey Dabb
Sent: Monday, 25 October 2021 3:53 PM
To:
Subject: Re: [Canberrabirds] Blitz weekend
I spent an hour and half in the fire-damaged Redwood Forest, now cleaned up, but cleaned up to the point that birds were few - a paltry 18 species, mostly at the margins. Overall the condition of these drought-averse giants of the US Pacific coast would cause John Muir to burst into tears were he to pay a visit. However, a few were showing some signs of having enjoyed the recent rains. As to bird species, I could mention a couple of least likelies, but I prefer to think of my modest list as a suitable subject for that BBC television quiz POINTLESS where the contestant must nominate a CORRECT but MOST OBSCURE candidate in a field of possibilities. The most obscure earns 100 points, the least obscure but one. (Obscurity has been set by pre-testing the list on 100 people.)
Thus: The subject is my species list. Name a species that is CORRECT (ie on the list) but the least likely to be on it. If the contestant says 'Australian Magpie' they will be correct but score few points (perhaps just one). If they are bold and say 'Sacred Kingfisher' the bell will go SPOINNNGG !!! - not on the list and no points.
From: Canberrabirds <> On Behalf Of John Brannan
Sent: Monday, 25 October 2021 1:50 PM
To:
Subject: Re: [Canberrabirds] Blitz weekend
Pinnacle highlights were some lovely views of a male Satin Flycatcher (and several Leadens), two T Frogmouth families, each with two chicks, and at least 5 Sacred Kingfishers.
John
On 25 Oct 2021, at 1:38 pm, Con <> wrote:

I repeated 4x2ha sites (two each on Black Mountain and Bruce Ridge) that I did last year. The noticeable thing was there seemed to be more individuals this year than last year.

Three Koels at Dryandra Street Woodland is also, I believe, a record number for that location.

I believe that they were attracted by the significant number of Red Wattlebirds.

kind regards

Con

On 10/25/2021 12:20 PM, Julie Clark via Canberrabirds wrote:

My highlight was seeing a Buff-banded Rail at Casey Wetlands. It was a first for me at that location in the six years that I've been visiting there.

Two Cattle Egrets in breeding plumage at the Big Dam of Mulligan's was also unexpected yesterday and seeing three breeding events (A Grebes, Coots and Black Ducks) on the front dam was a pleasant surprise as it had been pretty quiet there in recent times.

Although I didn't visit there as part of the Blitz, Yerrabi Pond currently has three broods of cygnets. I don't recall ever seeing that many at the same time before.

On Mon, Oct 25, 2021 at 7:50 AM Nicki Taws via Canberrabirds <> wrote:

After a fairly dour forecast early last week, the weather gods shone for us on the weekend. Thank you to everyone who participated in the Blitz, whether it was in your backyard, the local park or distant Namadgi. It was just lovely to be out after the restrictions of the last few months.

The eBird lists have been flowing in. I haven't had time to trawl through them yet but if you have a special moment or bird, feel free to share it. One of my first birds when I stepped outside on Saturday morning was a Scarlet Honeyeater – not a bad way to start any day but especially a Blitz weekend.

Keep the lists coming if you are still to enter them (share with COG Blitz), or post datasheets to PO Box 348 Jamison Centre, or send an email with your results.

Cheers

Nicki Taws

0408 210736

--
This is the email announcement and discussion list of the Canberra Ornithologists Group.
Emails posted to the list that exceed 2 MB (2,000 kB) in size, including attachments, will be rejected.
All emails distributed via the list are archived at http://bioacoustics.cse.unsw.edu.au/archives/html/canberrabirds. It is a condition of list membership that you agree to your contributions being archived.

Canberrabirds mailing list

https://lists.canberrabirds.org.au/mailman/listinfo/canberrabirds




--

--
This is the email announcement and discussion list of the Canberra Ornithologists Group.
Emails posted to the list that exceed 2 MB (2,000 kB) in size, including attachments, will be rejected.
All emails distributed via the list are archived at http://bioacoustics.cse.unsw.edu.au/archives/html/canberrabirds. It is a condition of list membership that you agree to your contributions being archived.

Canberrabirds mailing list

https://lists.canberrabirds.org.au/mailman/listinfo/canberrabirds

ATT00001.txt
Description: ATT00001.txt