I agree with Geoffrey and note also that a few groups moving around doesn't mean this is part of the migration, it can be just in response to tree flowering or water or daily activities. With all the water available in suburban environments, is Canberra functionally a lot drier than usual? Or drier than the rural areas?
About Geoffrey's last comment. It also highlights that it is more than overdue for The GBS Report to be updated and reissued. The species abundance overall does not vary a great deal, is clearly highest in April and May. This would coincide with peak migration time, when it is easy to observe higher numbers. I also point out that the Red Wattlebird is one of only three species given the privilege of monthly abundance graphs (on page 90, as in not combined by year and by month) for the whole 21 years. I did this to point out that the pattern of abundance changes seemed to undergo quite a change from a quite regular pattern for the first 8 years to a much less consistent pattern for the next ten years, then revert back to similar to the first years. I don't know why the species made that change.
I don't see anything beyond random variation in the comparison of summer and winter reporting rates from the COG website.
Philip
From: Geoffrey Dabb [
Sent: Saturday, 17 February, 2018 10:31 AM
To:
Subject: FW: [canberrabirds] Wattlebirds + Friarbirds on the move
Interesting. I hope it will not be seen as an unwelcome quibble if I point out that more than one issue is being brought together here.
The label for RWB locally is 'Common breeding resident. Part of the population is migratory, especially in the ranges'. Ryu's original question related to birds apparently on the move:
'is this early?' The answer, I think, is that, if these were through-movers from the ranges or further south, we don't know. However, certainly the main movement is much later. Are very early mini-waves usual? I don't know.
I don't think we know the extent to which local birds, those that nest in Canberra gardens or the ANBG for example, move north in the non-breeding season. If most of them did, the local population should be labelled 'mainly migratory', rather than 'resident'. However I do not believe that to be the case. That leaves the question suggested by Michael: Are exceptionally dry conditions this year causing the usually migratory component to move north earlier than usual - or (more interestingly) causing movement in the component that would normally remain in Canberra gardens year-round? If the answer to the second question is 'yes', is that movement part of a south-north migration or to the coast or only towards other nearby food sources?
Below is a comparison of summer and winter reporting rates from the COG website –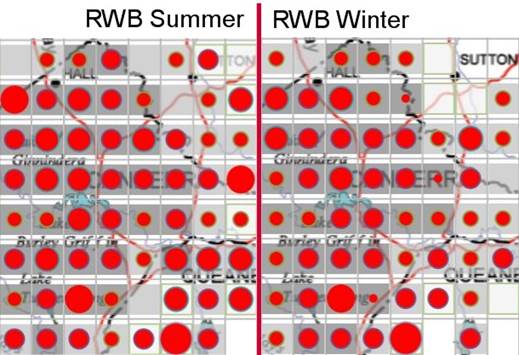 More illuminating is the monthly number of records report –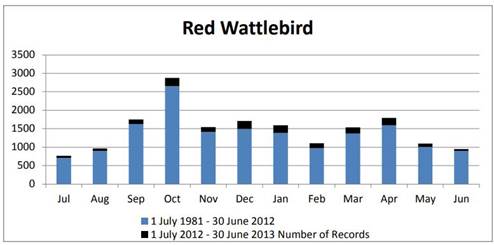 That suggests seasonal through-movers inflate the numbers, as does the cells graph (look at April)

and even more the abundance graph (look at October and April) –
Unfortunately I can't find the corresponding GBS graphs, which should be particularly useful for this species.
From: Jack & Andrea Holland [
Sent: Friday, 16 February 2018 8:33 PM
To: Michael Lenz; Ryu Callaway
Cc: COG Chat
Subject: Re: [canberrabirds] Wattlebirds + Friarbirds on the move
I had some RWBs moving on the S fence of Narrabundah Hill at the end of January, perhaps a little early but it is a species that moves around quite a bit.
For the first time in ages I only have a couple in my GBS site, with the last fledgling being fed over a week ago. As is often the case here that's similar timing to when the last Koel fledgling was seen/heard. For both it's relatively early.
One very positive aspect of this has been the return of smaller species (Brown Thornbill, Scrubwren, Superb Fairy-wren and Weebill) to my garden.
I can't say anything about Noisy Friarbirds since they have been absent from my local area, with just one heard since the New Year. That's one reason why it's easy to rule them out as Koel hosts if I can't confirm that the RWB is.
Sent: Friday, February 16, 2018 12:33 PM
Subject: Re: [canberrabirds] Wattlebirds + Friarbirds on the move
Red Wattlebirds have thinned out from the areas I visit, incl. my GBS site for a while. In early Feb. a group of 31 wattlebirds were passing through Lyneham Ridge. Friarbirds also appear to have left some areas at least for some time. The very dry conditions may make it difficult for these species to find enough food here, hence they have/are departing relatively early.
On 16 February 2018 at 09:57, Ryu Callaway <> wrote:
This morning along the back fence of Callum Brae, flocks of about 6 wattlebirds and friarbirds each (more of the former) seemed to be on the move everywhere. Is this around when they usually start or is it early?

Ryu