| | | |
| --- | --- | --- |
| | canberrabirds | |
Owls
| | |
| --- | --- |
| To: | <> |
| Subject: | Owls |
| From: | "Geoffrey Dabb" <> |
| Date: | Wed, 3 Dec 2014 16:38:06 +1100 |
Good question Mark - Jack raised it also and he and Steve and I had an exchange about it. It will be difficult to arrive at a firm conclusion. The 2007 bird was 7 years ago, with an appearance of that or another individual in 2009. The theory that it is the same bird would largely rely on the assumption that it is a single territory. If it is likely an individual could hold a territory for so long you would need to divide the probability (whatever it is) by 2 to allow for the possibility of a pair. Another possibility is that one individual(unusually?) likes this general suburban locality for post-breeding hunting. Clearly it/they like ringtails but these are said to be 59% of prey - and 70% of held-over prey (which males do more frequently). On appearance, some kind of comparison is possible if you look at my 2007 video which is on the same HBW website where Steve posted his. My impression is that this bird is noticeably darker particularly on the upper breast where the dark feather margins are broader. The HANZAB info is now quite old and I would think much more is now known about plumages in view of the species being given more attention. Individuals can vary, and there is a suggestion young birds are paler with narrower dark chevrons. In the below the 2007 bird is on the left. The colour tone will be due to the different light.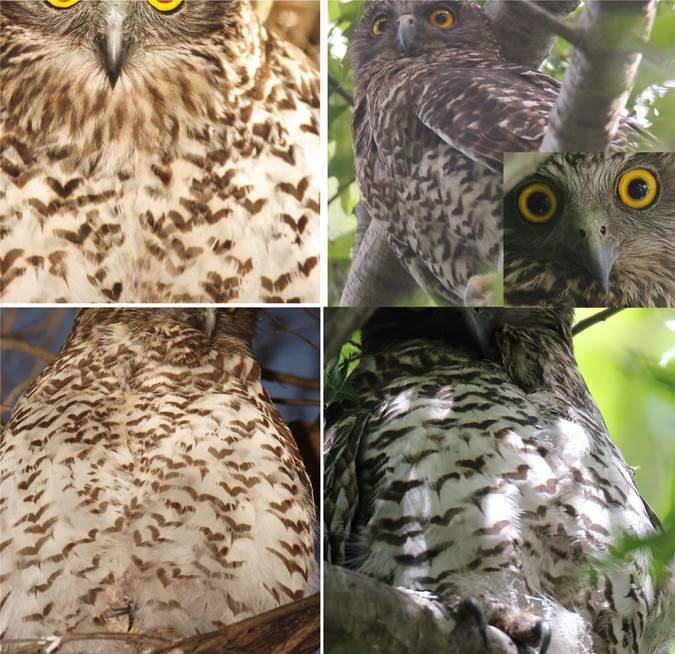 From: Mark Clayton [
Sent: Monday, 1 December 2014 6:25 PM
To: 'Geoffrey Dabb'
Subject: RE: [canberrabirds] Other side of today's preyless owl
Geoffrey,
This is obviously a long shot but have you, or anyone else for that matter, compared this bird with the bird(s) that occurred in the ANBG?
Cheers,
Mark
Admin
The University of NSW School of Computer and Engineering takes no responsibility for the contents of this archive. It is purely a compilation of material sent by many people to the Canberra Ornithologists Group mailing list. It has not been checked for accuracy nor its content verified in any way. If you wish to get material removed from the archive or have other queries about the list contact David McDonald, list manager, phone (02) 6231 8904 or email . If you can not contact David McDonald e-mail Andrew Taylor at this address: andrewt@cse.unsw.EDU.AU