How do beaks repair and grow? As some might remember, the 2007 bird had an erosion that was not a normal nostril at the top of its beak, is this likely to be still noticeable?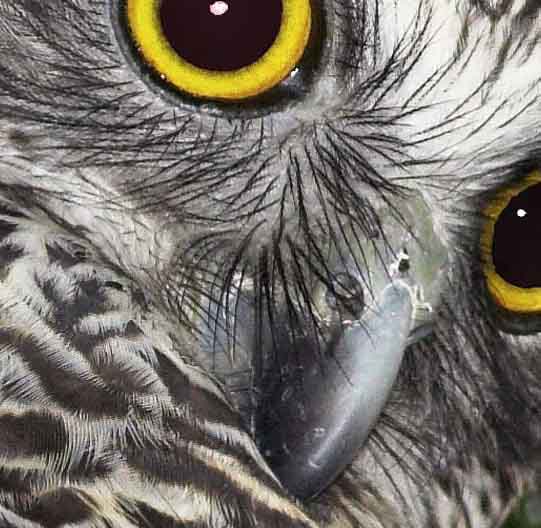 From: Philip Veerman [
Sent: Wednesday, 3 December 2014 17:33
To: 'COG List'
Subject: RE: [canberrabirds] Owls
Then again it could be different patterns and still the same bird. As in who is to say that one bird retains the same pattern? Museum specimens are not going to prove that, due to the obvious thing that once dead, future developments are lost. Only well studied captive birds or long term photos of known birds could help with this question. I can't think how this could ever be more than a question. Geoffrey is surely understating with It will be difficult to arrive at a firm conclusion. A fun question but I see no way of knowing an answer, unless it was banded or we have really good DNA evidence (who would pay for testing that and why). As for territory, that is unlikely that it has been in that area undiscovered all that time. But that does not mean that it is not the same bird that has been far away in the years in between and returned. That seems reasonable to me or just a rare species that one of them occasionally comes into Canberra.
About possums, I can add the peripheral information that last week I had to have Brush tail Possums removed from my roof. They caught 3 over three nights, two adults and one small but independent young. The requirement is that they be released within 50 metres of capture site but of course that is a nonsense as they would immediately return. I was told they can find heir way back to about 3 km. Obviously I don't know how generally true that is. So what happens? I asked. They transport them to another similar suburban habitat (not bush) on the other side of town (obviously vice versa). They have a few favoured release spots (I do not know these locations). So there are places in Canberra that possums get taken to and released in the evening where the habitat is probably already full of possums, where the animals are unfamiliar and only have a night to find a new hole (or another house roof to continue to supply the pest controllers with new business). In the process such possums are vulnerable to predators like our PO. The possums are also predators of nesting birds and whatever. I suspect the non result from the Currawongs nest in my big tree this year could be due to these possums (not that I am upset about that).
-----Original Message-----
From: Martin Butterfield [m("gmail.com","martinflab");">]
Sent: Wednesday, 3 December 2014 4:53 PM
To: Geoffrey Dabb
Cc: COG List
Subject: Re: [canberrabirds] Owls
What is the likelihood, over 7 years, of the detail of a bird's feather pattern changing due to moulting? If this is very low my poor eyesight suggests that these are different patterns and thus different birds.
On 3 December 2014 at 16:38, Geoffrey Dabb <m("iinet.net.au","gdabb");" target="_blank">> wrote:
Good question Mark - Jack raised it also and he and Steve and I had an exchange about it. It will be difficult to arrive at a firm conclusion. The 2007 bird was 7 years ago, with an appearance of that or another individual in 2009. The theory that it is the same bird would largely rely on the assumption that it is a single territory. If it is likely an individual could hold a territory for so long you would need to divide the probability (whatever it is) by 2 to allow for the possibility of a pair. Another possibility is that one individual(unusually?) likes this general suburban locality for post-breeding hunting. Clearly it/they like ringtails but these are said to be 59% of prey - and 70% of held-over prey (which males do more frequently). On appearance, some kind of comparison is possible if you look at my 2007 video which is on the same HBW website where Steve posted his. My impression is that this bird is noticeably darker particularly on the upper breast where the dark feather margins are broader. The HANZAB info is now quite old and I would think much more is now known about plumages in view of the species being given more attention. Individuals can vary, and there is a suggestion young birds are paler with narrower dark chevrons. In the below the 2007 bird is on the left. The colour tone will be due to the different light.
Geoffrey,
This is obviously a long shot but have you, or anyone else for that matter, compared this bird with the bird(s) that occurred in the ANBG?
Cheers,
Mark