| | | |
| --- | --- | --- |
| | canberrabirds | |
The privatisation of the wetlands
| | |
| --- | --- |
| To: | "martin butterfield" <> |
| Subject: | The privatisation of the wetlands |
| From: | "Geoffrey Dabb" <> |
| Date: | Sun, 9 Mar 2008 10:49:41 +1100 |
Ah, the little-understood economics of the tick. Some people do not know value when they see it. It has been calculated that, with the cost of fuel, accommodation and binoculars insurance, after the first 350 (more accessible) species each further Australian species costs an average of $A327 per tick. And they call it an inexpensive hobby ...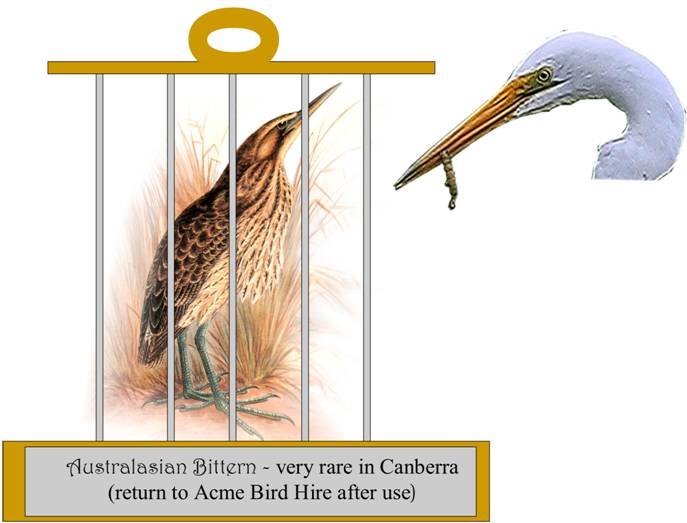 From: martin butterfield [
Sent: Saturday, 8 March 2008 6:05 PM
To: Geoffrey Dabb
Cc:
Subject: Re: [canberrabirds] The privatisation of the wetlands
Are you open to negotiation? The specimen shown has been ticked so is really only worth a fiver (although a Wednesday Walk may manage to cooperatively scape up $10) and anything in a cage is beneath contempt.
A guaranteed Pied Butcherbird in the ACT (and I am almost at the point of not being too sniffy in the matter of cages for that species) would be worth about $7.85 if only to save the petrol of continuing to dip on them at various spots. Possibly Mr Antram and My Fraser may also wish to contrbute to that one.
Needless to say these are personal opinions and do not commit the CPA to any funding proposals.
On Sat, Mar 8, 2008 at 1:59 PM, Geoffrey Dabb <> wrote:
Admin
The University of NSW School of Computer and Engineering takes no responsibility for the contents of this archive. It is purely a compilation of material sent by many people to the Canberra Ornithologists Group mailing list. It has not been checked for accuracy nor its content verified in any way. If you wish to get material removed from the archive or have other queries about the list contact David McDonald, list manager, phone (02) 6231 8904 or email . If you can not contact David McDonald e-mail Andrew Taylor at this address: andrewt@cse.unsw.EDU.AU