| | | |
| --- | --- | --- |
| | canberrabirds | |
Identification Help Sought
| | |
| --- | --- |
| To: | <> |
| Subject: | Identification Help Sought |
| From: | "Jerry Bishop" <> |
| Date: | Tue, 4 Mar 2008 11:37:00 +1100 |
The son of a friend took the following photo recently at Lake Tuggeranong.
What has got me going are the buff flanks extending down to the bars in the undertail coverts. The only reference that I have which illustrates a Swallow with barred undertail coverts is in Michael Morecombe's Field Guide to the Birds of Australia, 2000 – Pacific Swallow (Hirundo tahitica).
If I am right in my identification it might be a first for the ACT. What do others think?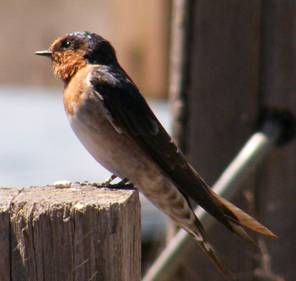 Jerry Bishop
Admin
The University of NSW School of Computer and Engineering takes no responsibility for the contents of this archive. It is purely a compilation of material sent by many people to the Canberra Ornithologists Group mailing list. It has not been checked for accuracy nor its content verified in any way. If you wish to get material removed from the archive or have other queries about the list contact David McDonald, list manager, phone (02) 6231 8904 or email . If you can not contact David McDonald e-mail Andrew Taylor at this address: andrewt@cse.unsw.EDU.AU