Jerry - That barring is certainly unusually prominent, but I think the explanation may be that according to HANZAB the W Swallow has undertail-coverts 'grey with black chevron-shaped sub-terminal markings'. One of the drawings in HANZAB shows these faintly. They are also just visible in this section of a photo in the NPI book:
I am familiar with the P Swallow from Waigani sewage ponds on the outskirts of Port Moresby. Not that that's much help here. The only useful illustration we had in those days was the small one in Ernst Mayr's Birds of the Southwest Pacific (left below). Brian Coates' photo (probably taken at WSP) is on the right.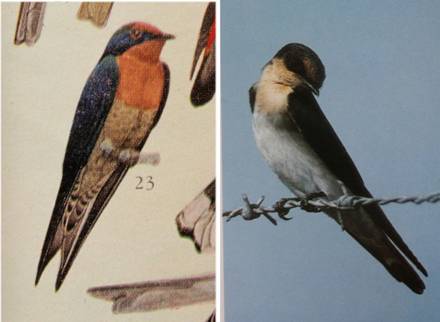 From: Jerry Bishop [
Sent: Tuesday, 4 March 2008 11:37 AM
To:
Subject: [canberrabirds] Identification Help Sought
The son of a friend took the following photo recently at Lake Tuggeranong.
What has got me going are the buff flanks extending down to the bars in the undertail coverts. The only reference that I have which illustrates a Swallow with barred undertail coverts is in Michael Morecombe's Field Guide to the Birds of Australia, 2000 – Pacific Swallow (Hirundo tahitica).
If I am right in my identification it might be a first for the ACT. What do others think?
Jerry Bishop