Graham – were you on Top Nass Road and its roadsides, or the old Nass Travelling Stock Reserve at the junction of Top Nass Road and Nass and Boboyan Road?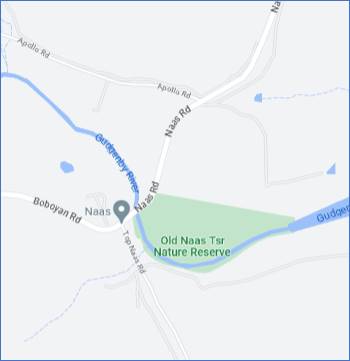 The old TSR may well be private property, or at least (since this is the ACT) part of a rural lease – I have no knowledge of that.
My understanding is that Top Nass Road is a public road up to the 90-degree bend at the entrance to Caloola Farm, where there is a heritage interpretation sign, about 6 km from the junction with Nass and Boboyan Roads. That will include the roadside verges but of course not across any fence onto farmland. With permission, it is possible to continue through Caloola Farm into Namadgi NP but this is through a locked gate so not accessible without keys. Birders typically turn around at the 90-degree bend in the road just before Caloola Farm.
There have been a series of reports of locals objecting to birders along this public road - this has happened to me, but I managed to keep the conversation cordial. There have also been reports of birders crossing fences, entering the rural leases and potentially disturbing stock – in which case the objections of locals are understandable.
Regards

Steve
From: Canberrabirds <> On Behalf Of Graham Gall
Sent: Friday, June 16, 2023 6:41 AM
To: David McDonald (Personal) <>
Cc: Canberrabirds list <>
Subject: Re: [Canberrabirds] Stock routes, or 'Where shall we ride near Canberra?'
Ok then I have a question. I was recently shooting (photos) on Top Nass Rd and was berated by a local telling me the the travelling stock route past the Top Naas gate was 'private property' and I was trespassing and told with anger me to get out! Is this correct?
I thought it was public land.
Graham
On 15 Jun 2023, at 6:57 pm, David McDonald (Personal) <> wrote:

Greetings. Sometime ago a subscriber asked list members whether there are any stock routes in Canberra. The answer was no.

I've recently become aware of a 1940 journal article that includes a sketch map of places to go horse riding, using Duntroon as the base. The article mentions, and the sketch map shows, a number of stock routes in the area stretching from Gungahlin in the north to Cotter Road in the south: C. E. McK 1940, 'Where shall we ride near Canberra?', Journal of the Royal Military College of Australia, vol. 27, no. 34, pp. 20-2, https://nla.gov.au/nla.obj-1422782330.

And isn't it a shame that 'shall' is disappearing from the English language? Google's ngram viewer shows that its use has fallen 74% between when I was born and 2019. Sigh!

1004 Norton Road, Wamboin NSW 2620, Australia

Mobile: 0416 231 890 | Tel: (02) 6238 3706

--
This is the email announcement and discussion list of the Canberra Ornithologists Group.
Emails posted to the list that exceed 2 MB (2,000 kB) in size, including attachments, will be rejected.
All emails distributed via the list are archived at http://bioacoustics.cse.unsw.edu.au/archives/html/canberrabirds. It is a condition of list membership that you agree to your contributions being archived.

Canberrabirds mailing list
m("lists.canberrabirds.org.au","Canberrabirds");">
https://lists.canberrabirds.org.au/mailman/listinfo/canberrabirds