It was not necessary to leave my LOCAL REGION to investigate the loud THUMP on the window at sunrise this morning. I found an ex- Painted Buttonquail that must have been commuting south at some speed at about 5m above ground level. Now in the freezer.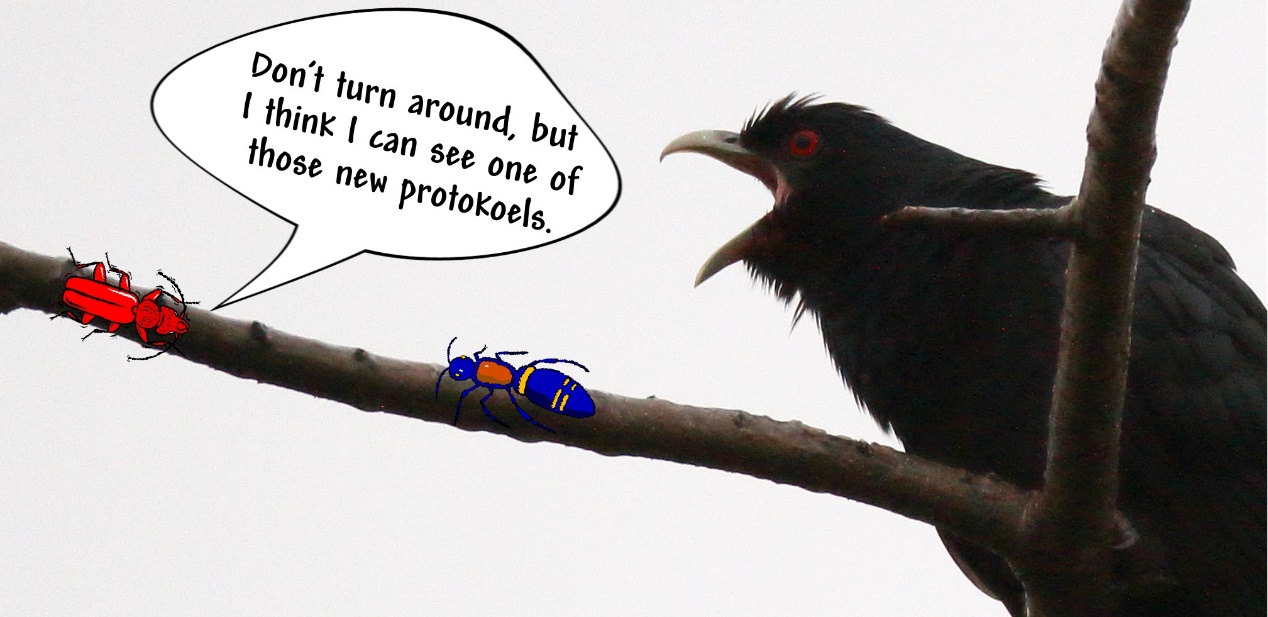 From: Canberrabirds <> On Behalf Of Archer Callaway via Canberrabirds
Sent: Saturday, 18 September 2021 10:08 PM
To:
Subject: Re: [Canberrabirds] Lock down protocaol for Birders
Indeed there is a lot of ambiguity in the current rules, keeping in mind that the overall aim is to reduce (not eliminate) contact points and mixing of the community. I'll keep my comments brief as the legislative aspect seems to have already been clarified, and many good points have already been made.
Minister Stephen-Smith was quoted by the ABC (2 Sep) "if you live a long way from your friends, and you need to meet up somewhere, you are allowed to do that under the current directions".

Also from minister Stephen-Smith (ABC Canberra) - "We relaxed those gathering rules slightly so that people could , for their own mental health, catch up with a few other people on occasion" - mental wellbeing is considered a valid priority.

You are able to meet with up to 5 people from NSW for outdoors exercise / recreation as long as they can enter the ACT under the standing exemption - obviously this cannot be done within within your local region for all members.

Stay within your region 'wherever possible'.

Earlier on before outdoor recreation was permitted, exersise was not defined. Exersise means something different to everyone taking into account age and fitness, and I noticed there were people who undertook birding and bird photography, while others (including myself) were not comfortable with this. This didn't seem to raise the same kind of discussion, although I concede it is irrelevant now.

For people like myself that live near the edge of their district, there are many sites that are far more local that fall in the adjacent district. For example, it's probably more justified for me to walk Isaccs Ridge (3 minute drive or walking distance if I'm feeling energetic, but not in my district) than going to Tuggeranong Hill or Rob Roy (10 minute drive, but within my district). Also consider reserves like Mt Taylor and Farrar Ridge - they are technically part of Tuggeranong, but are ajoined by suburbs in Woden (Farrar, Pearce), and those residents would absolutely be using it.
Can I emphasise that it is not the responsibilty of COG or COG members to police the movements of others. COG cannot possibly be held accountable for or be expected to have any influence over the behaviour of birders and other nature enthusiasts, of which with all due respect only a small minority are members of or associated with COG in any way. We are all in this together, and coping or struggling in a different manner, and the best thing we can do is support each other through it. For those that have been able to keep to a very strict interpretation of the rules, I applaude you. Some have applied a slightly more liberal interpretation of the rules, and that's okay too. I'm sure everyone is doing the best they can and working to limit their movement wherever possible. Also keep in mind that people do find themselves in other areas of Canberra for various reasons, including work and for medical reasons, and may incidentally find themselves birding on these occasions. We do not know of each individual's circumstances, and should not be so quick to pass judgement.
Another thing that has come to light is the effect of ebird and other social media putting more scrutiny on people's movements than ever before. For those keeping strictly to their street and local park, it may be upsetting to see other people moving around further. For others, seeing lists just outside of your local zone may prove too much of a temptation, or a source of angst and frustration. Perhaps now is the time for ebird users to review your privacy settings while we are under restricted movement orders. There are options to hide your name, your profile, or your lists from recent visits and/or alerts. If you do take this step, I would encourage you to revert your settings at the conclusion of lockdown. Clearly, seeing other's movements/sightings/lists but having your own hands tied is posing challenges for many of us in the current climate, and anything to help alleviate that and reduce feelings of anxiety and annoyance should be pursued.
A guide to the hidden birding gems of each Canberra district is a great initiative, I hope Sue gets lots of submissions of your favourite local sites. For those looking to find new spots locally, the following are also a good place to start.
Please take care of yourselves, and reach out to friends or other support services if you are struggling. Otherwise, regularly check in and reconnect with others close to you - you don't know how helpful even a short message can be for them. And most importantly, take some time out in nature, whether that be at your local reserve or your backyard.
---
From: Canberrabirds <> on behalf of shorty via Canberrabirds <>
Sent: Saturday, 18 September 2021 5:37 PM
To: David Rees <>
Cc: COG Chat <>
Subject: Re: [Canberrabirds] Lock down protocaol for Birders
No matter how one reads the rules, at the end of the day if we do the right thing we will get through this mess. If we just look for loopholes it may never end. Unfortunately it comes down to common sense and that just is not that common.
As for "Wherever possible" seems clear to me. If by no other means you cannot avoid going out of your area it is ok. I don't think the Police will accept a twitch as a good reason. Maybe we will see a post in the future from someone that they were fined for being out of their area?
On Sat, Sep 18, 2021 at 4:49 PM David Rees <> wrote:
While I agree with your sentiment, the problem is the stay in area while exercising does not appear to be in the legal instrument as in the gazetted 'public health directions'. It's sort of there on the website with regards to exercise (as of now, Sun PM 18/9) but only as....

.....'As you can be with 5 people outside, can you leave your local region to do this?

You should stay within your region wherever possible. Your region means the area of Canberra where you reside:'

Gungahlin
Belconnen
Central Canberra
Woden, Weston Creek Molonglo
Tuggeranong

see https://www.covid19.act.gov.au/act-status-and-response/lockdown/lockdown-faqs

note the 'wherever possible' whatever that means.

Should people be 'pushing it', I would say no, we all want this to finish, but I think the Government is hardly helping itself in this matter with the above.

David

On 18/09/2021 3:36 pm, shorty via Canberrabirds wrote:

Just to add to the discussion, as some know i am a builder mostly on existing houses and was allowed back to work last week but under strict conditions. One of these conditions is i have to carry with me at all times an authorised worker permit showing where i am working on the day. One of the reasons for this permit is to show to the Police if i get pulled over for being out of my area. This to me seems pretty clear cut that you need a legitimate reason for leaving your area.

I also recall what Andrew Barr said on his first lockdown press conference "If you live in Belconnen, exercise in Belconnen, get your groceries in Belconnen. Do not be travelling across the ACT for exercise or essential supplies." I thought he made it clear.

On Fri, Sep 17, 2021 at 11:11 AM Neil Hermes via Canberrabirds <> wrote:

Just a reminder that all birders should be aware of, and comply with, the ACT Government's directions concerning permissible outdoor activities. It reflects on all of us if some birders are not being seen to be responsible.




Regards

Neil Hermes
President

--
This is the email announcement and discussion list of the Canberra Ornithologists Group.
Emails posted to the list that exceed 2 MB (2,000 kB) in size, including attachments, will be rejected.
All emails distributed via the list are archived at http://bioacoustics.cse.unsw.edu.au/archives/html/canberrabirds. It is a condition of list membership that you agree to your contributions being archived.

Canberrabirds mailing list

https://lists.canberrabirds.org.au/mailman/listinfo/canberrabirds





ATT00001.txt
Description: ATT00001.txt