COG members and chat line subscribers, I expect many of you will be interested in this article.
It also allows early notice that Russell will be our main speaker at the 13 October COG meeting. Regrettably this will be virtually, originally he was to be in Canberra, but the COVID lockdown made that impossible.
Jack Holland
From: McGregor, Russell <>
Sent: Sunday, 19 September 2021 7:45 AM
To: 'Greg Roberts' <>; ; Vincent Lee <>; Philip Venables <>; Anna Jeffries <>; Brennan, Claire <>; Henry, Rosita <>; ; Megarrity, Lyndon <>; Lindsay Trott <>; Bill McGregor <>; Tynan, Liz <>; 'Peter Leaver' <>; Valentine, Peter <>; Petray, Theresa <>; Ruth Morgan <>; ; Danielle Jesser <>; ; ; Joseph, Leo (NCMI, Crace) <>; ; Tom Griffiths <>; Mark McKenna <>; Margaret Cook <>; Andrea Gaynor <>; Penny Olsen <>; Andrew Isles Natural History Books <>; Richard White <>; Catherine Bishop <>; Cathy Perkins <>; ; ; Philip Veerman <>; Hugh McGregor <>; Paul Turnbull <>; Paul Star <>; Larry Crook <>; Keats, Bethany <>; Pat Comben <>; Don Garden <>; Tom May <>; ; Cecile Espigole <>; David Carment <>; cindi davey <>; ; Emily Gallagher <>; ; ; ; Natasha Harris <>; Bernadette Hince <>; McBurnie, Bronwyn <>; John Kooistra <>; ; <>; Jacqui Stockdale <>;
Subject: New Paradise Parrot article
Hi
I've just had another article on the Paradise Parrot published in Arcadia, an electronic environmental history journal published by the Rachel Carson Centre in Munich. You can access it here: https://www.environmentandsociety.org/arcadia/tragedy-paradise-parrot
It's short and only takes a few minutes to read. The story of this bird's loss needs all the publicity it can get. Please feel free to tweet the article, put it on Facebook, email it to friends – whatever you like. It's published under a Creative Commons license, so you can do pretty much anything with it, as long as you acknowledge where you got it.
All the best
Russell
Russell McGregor
Adjunct Professor of History
College of Arts, Society and Education
James Cook University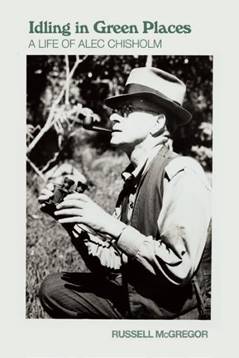 My latest book, Idling in Green Places: A life of Alec Chisholm, https://scholarly.info/book/idling-in-green-places/ was shortlisted for the 2020 National Biography Award. Judges' comments can be found here: https://www.sl.nsw.gov.au/awards/national-biography-award/2020-shortlisted-1
My latest Conversation piece is on the intertwined history of birdwatching and conservation: https://theconversation.com/what-the-birdman-of-wahroonga-and-other-historic-birdwatchers-can-teach-us-about-cherishing-wildlife-143189
My latest article, 'Alec Chisholm and the extinction of the Paradise Parrot' is available from Historical Records of Australian Science, https://www.publish.csiro.au/HR/HR20019