Thanks for sharing Steve - more wonderful footage! I love how the birds do the splits while feeding in clumps of leaves blowing around! Such dexterity!
On Tuesday, 4 May 2021, 04:37:01 pm AEST, Wallaces <> wrote:
I have loaded some videos of the swift parrots at Callum Brae feeding.
https://ebird.org/checklist/S87063902
One of the eight videos was stuck in processing last time I looked but the other seven should be viewable.
Steve
From: Canberrabirds [ On Behalf Of Geoffrey Dabb
Sent: Monday, 3 May 2021 4:34 PM
To: Canberrabirds
Subject: Re: [Canberrabirds] Swift Parrots - Mt Ainslie NR
Interesting. My impressions after 2 visits to C Brae was (item for item) lerps 75%, buds 20%, blossom (nectar) perhaps 5%. Below is poor photo but hard to imagine more lerps than showing here. It takes longer to deal with a single bud because it is held and squeezed, not swallowed.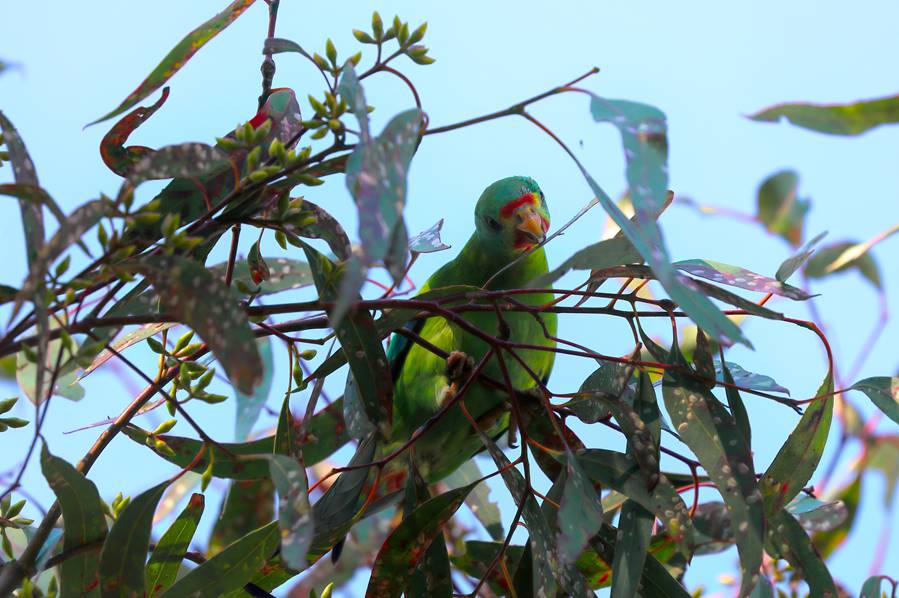 From: Canberrabirds <> On Behalf Of Peter Cranston via Canberrabirds
Sent: Monday, 3 May 2021 3:12 PM
To: Steve Holliday <>; Matthew Fitzgerald <>
Cc:
Subject: Re: [Canberrabirds] Swift Parrots - Mt Ainslie NR
I looked closely at David's excellent video from Callum Brae, expecting to see lerps on the foliage. There were few and only a few frames showed a swiftie obviously gleaning - most seemed to be nipping off developing flower buds, as reported from Mt Ainslie.
There were few or no lerps on the favoured gums in MItchell a couple of years ago, but damaged flower buds littered beneath their preferred feeding trees. This is not to say they don't do lerps, but it may not be such an important food resource in Canberra compared to flower buds.
pete cranston
.
---
Thanks Steve, they're still here feeding in the gums.

ATT00001.txt
Description: ATT00001.txt