| | | |
| --- | --- | --- |
| | canberrabirds | |
Swift Parrots - Mt Ainslie NR
| | |
| --- | --- |
| To: | Canberrabirds <> |
| Subject: | Swift Parrots - Mt Ainslie NR |
| From: | Geoffrey Dabb <> |
| Date: | Mon, 3 May 2021 06:33:58 +0000 |
Interesting. My impressions after 2 visits to C Brae was (item for item) lerps 75%, buds 20%, blossom (nectar) perhaps 5%. Below is poor photo but hard to imagine more lerps than showing here. It takes longer to deal with a single bud because it is held and squeezed, not swallowed.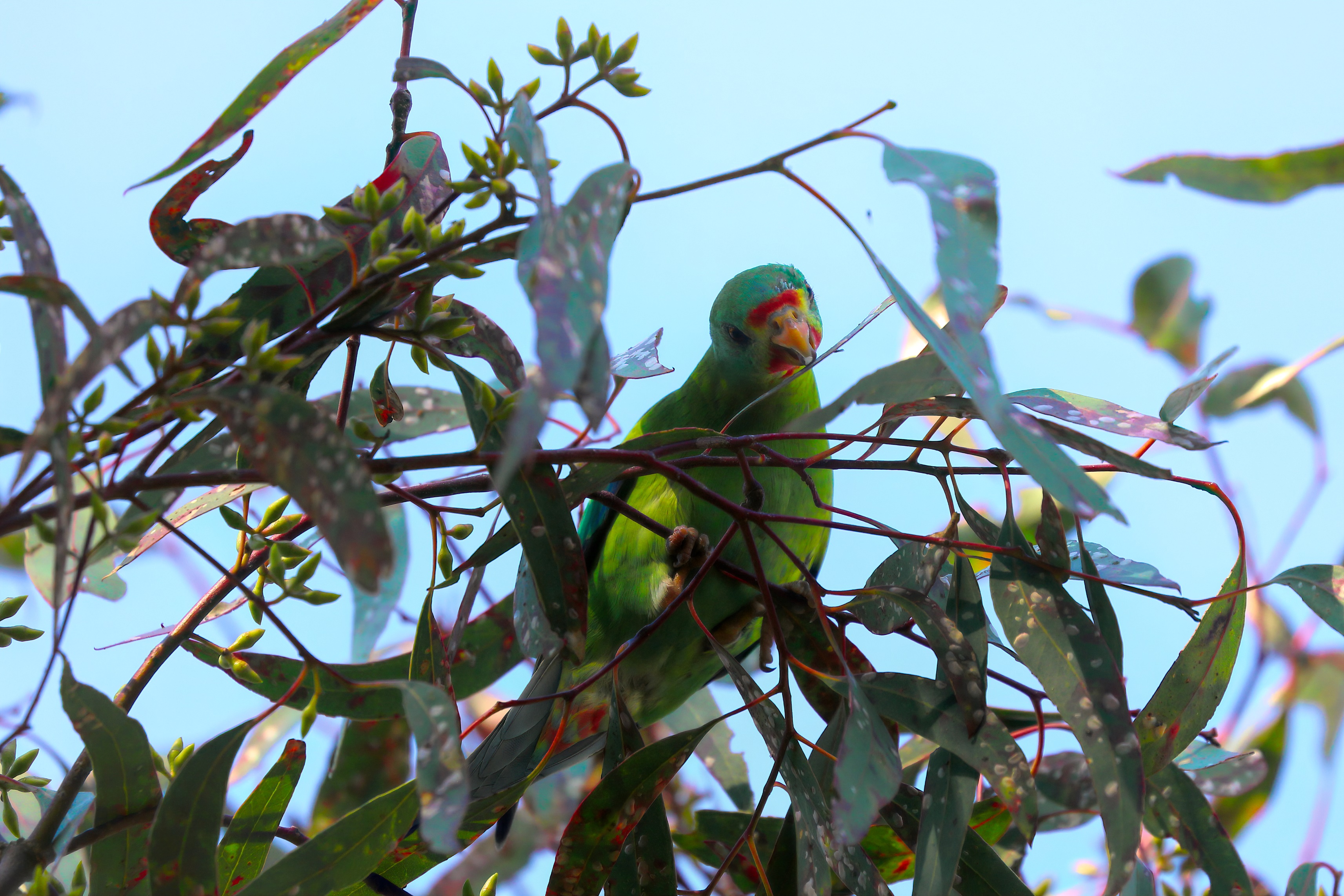 From: Canberrabirds <> On Behalf Of Peter Cranston via Canberrabirds
Sent: Monday, 3 May 2021 3:12 PM
To: Steve Holliday <>; Matthew Fitzgerald <>
Cc:
Subject: Re: [Canberrabirds] Swift Parrots - Mt Ainslie NR
I looked closely at David's excellent video from Callum Brae, expecting to see lerps on the foliage. There were few and only a few frames showed a swiftie obviously gleaning - most seemed to be nipping off developing flower buds, as reported from Mt Ainslie.
There were few or no lerps on the favoured gums in MItchell a couple of years ago, but damaged flower buds littered beneath their preferred feeding trees. This is not to say they don't do lerps, but it may not be such an important food resource in Canberra compared to flower buds.
pete cranston
.
---
Thanks Steve, they're still here feeding in the gums.
On Mon, 3 May 2021, 09:45 Steve Holliday, <> wrote:
Up to 30 Swift Parrots in Mt Ainslie NR this morning (with 25 seen close by last evening). Only 100 metres or so up from the Foveaux St entrance, just downhill from the powerlines.

Birds were busy feeding in several Yellow Boxes – many of the trees are in heavy bud and probably close to flowering, the Swifties were chewing on the flower buds.

Steve

--
This is the email announcement and discussion list of the Canberra Ornithologists Group.
Emails posted to the list that exceed 2 MB (2,000 kB) in size, including attachments, will be rejected.
All emails distributed via the list are archived at http://bioacoustics.cse.unsw.edu.au/archives/html/canberrabirds. It is a condition of list membership that you agree to your contributions being archived.

Canberrabirds mailing list

https://lists.canberrabirds.org.au/mailman/listinfo/canberrabirds

ATT00001.txt
Description: ATT00001.txt
Admin
The University of NSW School of Computer and Engineering takes no responsibility for the contents of this archive. It is purely a compilation of material sent by many people to the Canberra Ornithologists Group mailing list. It has not been checked for accuracy nor its content verified in any way. If you wish to get material removed from the archive or have other queries about the list contact David McDonald, list manager, phone (02) 6231 8904 or email . If you can not contact David McDonald e-mail Andrew Taylor at this address: andrewt@cse.unsw.EDU.AU