| | | |
| --- | --- | --- |
| | canberrabirds | |
FW: [canberrabirds] National Gallery Canberra Swift Parrots
| | |
| --- | --- |
| To: | "" <> |
| Subject: | FW: [canberrabirds] National Gallery Canberra Swift Parrots |
| From: | Geoffrey Dabb <> |
| Date: | Wed, 26 Sep 2018 05:39:04 +0000 |
They could be seen briefly from the elevated walkway between High Court and NGA. They were chased off by Noisy Miners. An NGA miner gathering below. I then took my visitors to AIS to find Superb Parrots. We found them but they were chased off by Noisy Miners.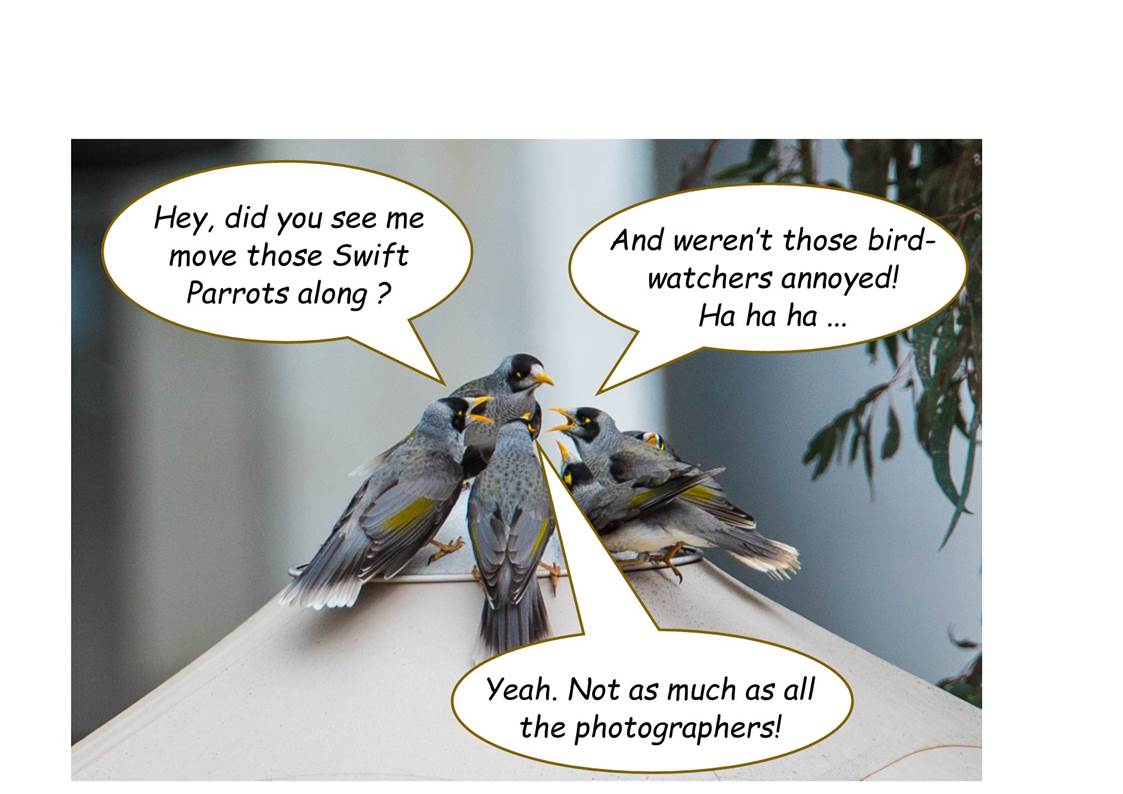 From: Matthew Willis <>
Sent: Wednesday, 26 September 2018 9:28 AM
To: David Rees <>
Cc: CanberraBirds <>
Subject: Re: [canberrabirds] National Gallery Canberra Swift Parrots (film)
Great stuff, David!
Has anyone seen the Swifts at the NGA today? I wonder if they may have moved on.
I saw them lunchtime yesterday (without camera) but could not see them when I was there (with camera) between about 8.15 and 8.30 this morning.
On Tue, Sep 25, 2018 at 6:47 PM David Rees <> wrote:
Once again thanks to the initial spotters/ reporters, a bird I've been wanting to film for sometime. Not easy given their liking for the high canopy. Feeding and sitting still.... filmed on 24 and 25 Sept 2018

For those who like Tasmanian migratory parrots, there is also my film of Orange-bellied Parrots at https://vimeo.com/265944289 for those who have not seen it.
<Prev in Thread]
Current Thread
[Next in Thread>

FW: [canberrabirds] National Gallery Canberra Swift Parrots, Geoffrey Dabb <=
Admin
The University of NSW School of Computer and Engineering takes no responsibility for the contents of this archive. It is purely a compilation of material sent by many people to the Canberra Ornithologists Group mailing list. It has not been checked for accuracy nor its content verified in any way. If you wish to get material removed from the archive or have other queries about the list contact David McDonald, list manager, phone (02) 6231 8904 or email . If you can not contact David McDonald e-mail Andrew Taylor at this address: andrewt@cse.unsw.EDU.AU