| | | |
| --- | --- | --- |
| | canberrabirds | |
Re: Frogmouth on time
| | |
| --- | --- |
| To: | COG List <> |
| Subject: | Re: Frogmouth on time |
| From: | Martin Butterfield <> |
| Date: | Mon, 24 Sep 2018 04:55:46 +0000 |
At times I worry about my observational skills. This morning coming back from our dog walk - within 30m of our house - i glanced at the ground and noticed a lot of whitewash at the foot of a spindly tree. On looking up, there was the female Frogmouth.
From the amount of guano she - and/or her partner - have spent quite a bit of time there. And I would estimate I walk past this point, on average 6 times a day. My only defence is that she was rather more camouflaged by foliage than usual.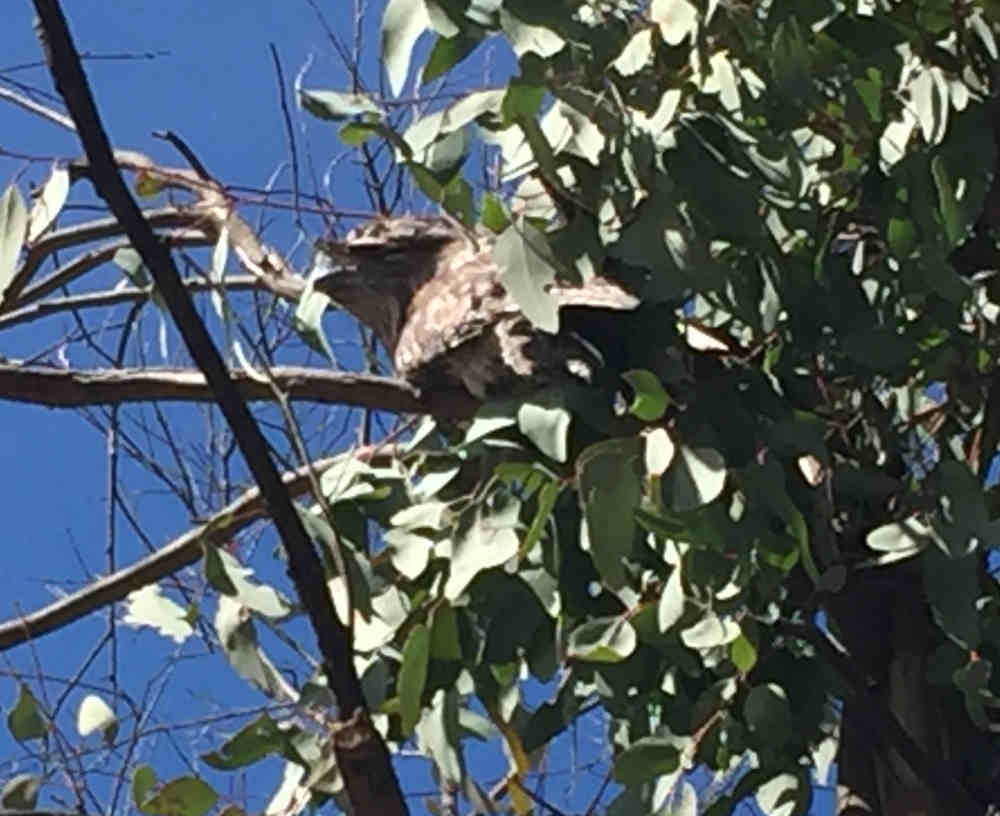 On Mon, 24 Sep 2018 at 05:55, Martin Butterfield <> wrote:

I used the average time 'my' pair of Tawny Frogmouths spend building their nest (16 days) as a predictor of when the male would commence brooding That indicated he'd assume the position this morning: and so he did.




This has surprised me a little as the pair's behaviour has changed this year. They seem to have found a new daytime roost site in 2018 as, while I had seen them a few times after dark, hunting on our lawn, I didn't find during the day until 25 August. Since that date they have usually roosted in a tree close to the nest site but have never roosted snuggled together, The male has usually perched on a small dead branch about 50cm above the female. As this behaviour is very different to the past I have speculated that one of the previous pair has died and a new partner acquired. (As the have used the same nest site - with plenty of, to me, similar alternative sites available in the area - I have assumed at least one of them is of the pair that has roosted here in the past.






Admin
The University of NSW School of Computer and Engineering takes no responsibility for the contents of this archive. It is purely a compilation of material sent by many people to the Canberra Ornithologists Group mailing list. It has not been checked for accuracy nor its content verified in any way. If you wish to get material removed from the archive or have other queries about the list contact David McDonald, list manager, phone (02) 6231 8904 or email . If you can not contact David McDonald e-mail Andrew Taylor at this address: andrewt@cse.unsw.EDU.AU