| | | |
| --- | --- | --- |
| | canberrabirds | |
Cumulative GBS species
| | |
| --- | --- |
| To: | COG List <> |
| Subject: | Cumulative GBS species |
| From: | Martin Butterfield <> |
| Date: | Mon, 30 Oct 2017 01:39:42 +0000 |
One of my small games with my GBS records is to track the cumulative number of species seen GBS-year to date.
This year started off slowly and fell further behind the 10 year average until it was nearly 9 species behind by early September. Since then the additional species have poured in and I'm now 2 species ahead of the average (with lots of previously seen species to add).
I have graphed the two series starting with week (starting week 32 to avoid any complications caused by variations in the timing and duration of our Winter absences).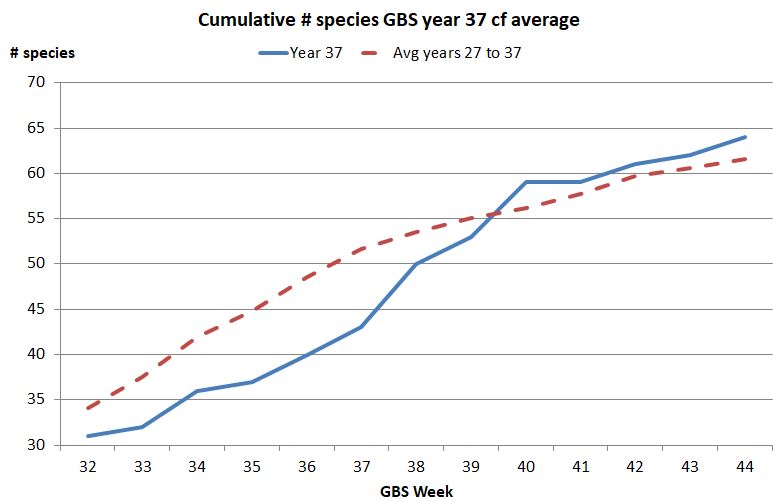 I usually end up with 75 - 80 species for a year. This year with an ounce of luck, a pound of axle grease and reasonable rainfall​ I could expect as many as 85 species.
Admin
The University of NSW School of Computer and Engineering takes no responsibility for the contents of this archive. It is purely a compilation of material sent by many people to the Canberra Ornithologists Group mailing list. It has not been checked for accuracy nor its content verified in any way. If you wish to get material removed from the archive or have other queries about the list contact David McDonald, list manager, phone (02) 6231 8904 or email . If you can not contact David McDonald e-mail Andrew Taylor at this address: andrewt@cse.unsw.EDU.AU