| | | |
| --- | --- | --- |
| | canberrabirds | |
Yellow Thornbill nesting
| | |
| --- | --- |
| To: | Canberra birds <> |
| Subject: | Yellow Thornbill nesting |
| From: | Wallaces <> |
| Date: | Wed, 20 Sep 2017 05:53:54 +0000 |
After many hours, over several days, near Hall, attempting to capture more than a couple of seconds of video of Yellow Thornbills, I was convinced they were nesting but I had not seen them carrying nesting material or food. Today I saw them defending a very small area of Cootamundra Wattle so I took a closer look. At first I could not see anything but after some time I did catch a glimpse of a nest in the top of a one of the wattles which I had looked at several times over the previous days. The birds visited the nest several times while I was watching but I could not see them carrying anything. The attached picture shows a bird approaching the nest (the blob above the bird) and the location of the nest in the tree.
There are very few records of Yellow Thornbill nests in the COG data (only 5 nest building records in the period 1982-2013) and given the location and the secretive way the birds approached the nest, I can understand why. Records of dependent young are more common.
The nest is close to the Striated Thornbill nest I reported recently. A family of 3 dependent young Brown Thornbills are also in the area.
Steve
Attachment: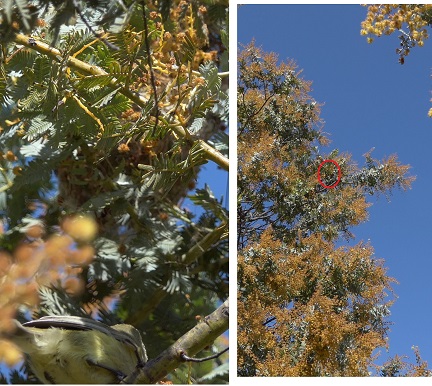 Description: Yellow Thornbill approaching nest and nest location resize.jpg

ATT00001.txt
Description: ATT00001.txt
<Prev in Thread]
Current Thread
[Next in Thread>

Yellow Thornbill nesting, Wallaces <=
Admin
The University of NSW School of Computer and Engineering takes no responsibility for the contents of this archive. It is purely a compilation of material sent by many people to the Canberra Ornithologists Group mailing list. It has not been checked for accuracy nor its content verified in any way. If you wish to get material removed from the archive or have other queries about the list contact David McDonald, list manager, phone (02) 6231 8904 or email . If you can not contact David McDonald e-mail Andrew Taylor at this address: andrewt@cse.unsw.EDU.AU