| | | |
| --- | --- | --- |
| | canberrabirds | |
Scenes from Red Hill yesterday - 1
| | |
| --- | --- |
| To: | canberra birds <> |
| Subject: | Scenes from Red Hill yesterday - 1 |
| From: | Duncan McCaskill <> |
| Date: | Thu, 14 Sep 2017 06:42:14 +0000 |
A pair of Brown Goshawks proclaiming their territory.
The larger bird, presumably the female, is on the left, the male on the right. Both birds were about the same (long) distance from the camera and the images are cropped about the same, so this gives some indication of their relative sizes. The female was perhaps a tad closer, so the size difference may be slightly exaggerated.
Note how the female's tail appears to be slightly forked, possibly due to not quite fully grown new feathers. A slightly forked tail is more usual on Collared Sparrowhawks.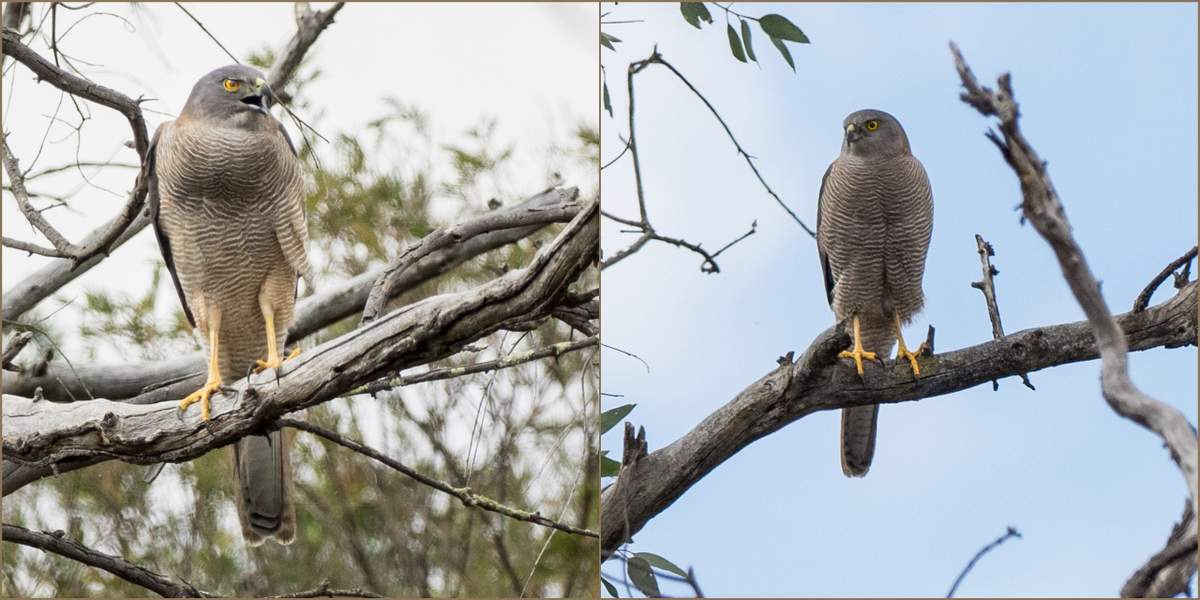 Duncan.
​

<Prev in Thread]
Current Thread
[Next in Thread>

Scenes from Red Hill yesterday - 1, Duncan McCaskill <=
Admin
The University of NSW School of Computer and Engineering takes no responsibility for the contents of this archive. It is purely a compilation of material sent by many people to the Canberra Ornithologists Group mailing list. It has not been checked for accuracy nor its content verified in any way. If you wish to get material removed from the archive or have other queries about the list contact David McDonald, list manager, phone (02) 6231 8904 or email . If you can not contact David McDonald e-mail Andrew Taylor at this address: andrewt@cse.unsw.EDU.AU