| | | |
| --- | --- | --- |
| | canberrabirds | |
The Plain and Bungendore South
| | |
| --- | --- |
| To: | COG List <> |
| Subject: | The Plain and Bungendore South |
| From: | Martin Butterfield <> |
| Date: | Sun, 28 Aug 2016 05:07:37 +0000 |
I have just been for a drive around the Hoskinstown Plain and the dams on the Southern edge of Bungendore.
The Plain was very quiet. I visited a couple of spots where I have seen Diamond Firetails a few times in the past but not this time. The paddocks inhabited by Banded Lapwings and White-fronted Chats offered 69 Magpies but neither target species. The highlight was seeing 2 Black-fronted Dotterels on a dam just North of Hoskinstown on Hoskinstown Rd. They are quite uncommon out here in Winter: this was the only record for August in 10 years.
​Going in to Bungendore I found the Plumed Whistling Ducks at Burrows Lane Dam. My count was 40 but they were sitting in relatively long grass and I may have missed 1 or 2.
The other two dams were very low on birds although 180 Galahs were perched above the hay racks (and a further 17 - total thus 197, a prime number!!! - perched on the racks).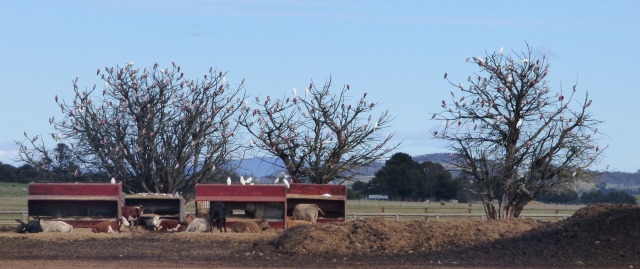 ​
Admin
The University of NSW School of Computer and Engineering takes no responsibility for the contents of this archive. It is purely a compilation of material sent by many people to the Canberra Ornithologists Group mailing list. It has not been checked for accuracy nor its content verified in any way. If you wish to get material removed from the archive or have other queries about the list contact David McDonald, list manager, phone (02) 6231 8904 or email . If you can not contact David McDonald e-mail Andrew Taylor at this address: andrewt@cse.unsw.EDU.AU