Just to bring back happy memories for all swooped by brown goshawks, here's 
another two images from the other week's merry time at Mulligans! (With gratis 
appearance by noisy friarbird.)

Cheers
Matthew Higgins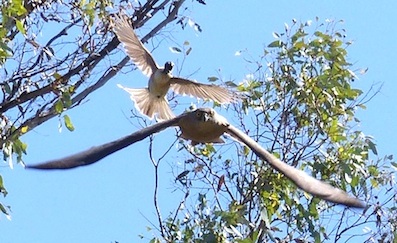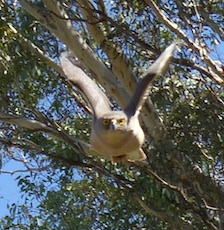 On 31/12/2014, at 4:45 PM, Ace Frawley wrote:

> I was swooped by a Noisy Friarbird today as I paused to watch it feeding its 
> young in the nest.  This is the first time I've been swooped by this species, 
> which got me thinking of all those which have.  I'm sure others will have 
> more, but for me, so far, this is the list of birds that I can remember 
> swooping me:
>
> Australian Magpie
> Masked Lapwing
> Brown  Goshawk
> Pied Currawong
> Dusky Woodswallow
> Red Wattlebird
> Noisy Friarbird
> Noisy Miner
>
> I would be interested in hearing what encounters others have had.



*******************************************************************************************************
This is the email announcement and discussion list of the Canberra 
Ornithologists Group.
Emails posted to the list that exceed 200 kB in size, including attachments, 
will be rejected.
When subscribing or unsubscribing, please insert the word 'Subscribe' or 
'Unsubscribe', as applicable, in the email's subject line.
List-Post: <>
List-Help: <>
List-Unsubscribe: <>
List-Subscribe: <>
List archive: <http://bioacoustics.cse.unsw.edu.au/archives/html/canberrabirds>
List manager: David McDonald, email <>