| | | |
| --- | --- | --- |
| | canberrabirds | |
Today on Mount Jerrabomberra
| | |
| --- | --- |
| To: | COG List <>, COG Wednesday Walkers <>, |
| Subject: | Today on Mount Jerrabomberra |
| From: | Martin Butterfield <> |
| Date: | Wed, 20 Aug 2014 17:14:22 +1000 |
The editors of Gang-gang might wish to use the following as the trip report
21 members and guests gathered at the start of the road up to Mount Jerranbomberra,  

As often the case there were interesting birds seen before the walk started, with about 12 species written down at that stage including 3 Gang-gangs and 5 Eastern Spinebills being logged.  Later in the walk an Eastern Spinebill was seen sitting on a nest as was a Common Bronzewing.  The third breeding record of the day was curious behaviour - eventually recorded as Inspecting Hollow by a pair of White-throated Treecreepers.  (The prsence of an Australian Wood Duck on a branch was quite able to be rated as inspecting hollow!)

At least 5 Golden Whistlers (2 stunning males) were seen low down on the mountain so they have not yet retreated to the higher country.  In a similat=r vein at least 2 pairs of Scarlet Robins were seen.


​ ​

For returning migrants I recorded Yellow-faced and Fuscous Honeyeaters and an Olive-backed Oriole.  Red Wattlebirds and Grey Fantails were also present in fair numbers.
​In total we recorded 33 species.​
A full listing of species seen is in the attached spreadsheet (load to website please) and some photos of a few plants and birds (and other stuff) are in
my blogpost.
Could the following be included in Gang-gang under upcoming trips, and added to the website.
The Wednesday Walk on 17 September will be to Yerrabi Pond

​, with an intention of circling the pond. (about 4kms)

.  Meet at Wunderlich St, Gungahlin at 9am.  An extract off Google Maps is attached.
Martin Butterfield

140820 COG Mount Jerrabommberra.xlsx
Description: MS-Excel 2007 spreadsheet
Attachment: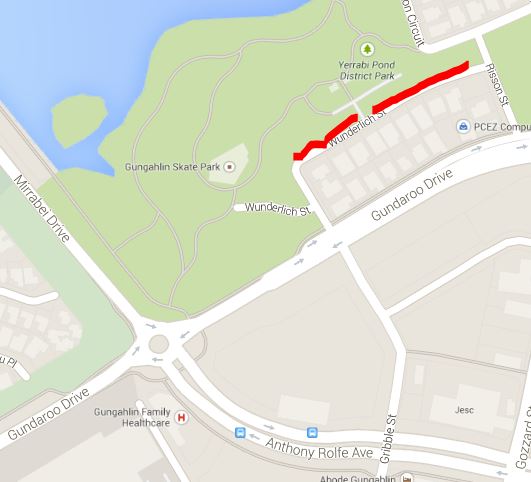 *******************************************************************************************************
This is the email announcement and discussion list of the Canberra 
Ornithologists Group.
Emails posted to the list that exceed 200 kB in size, including attachments, 
will be rejected.
When subscribing or unsubscribing, please insert the word 'Subscribe' or 
'Unsubscribe', as applicable, in the email's subject line.
List-Post: <>
List-Help: <>
List-Unsubscribe: <>
List-Subscribe: <>
List archive: <http://bioacoustics.cse.unsw.edu.au/archives/html/canberrabirds>
List manager: David McDonald, email <>
Admin
The University of NSW School of Computer and Engineering takes no responsibility for the contents of this archive. It is purely a compilation of material sent by many people to the Canberra Ornithologists Group mailing list. It has not been checked for accuracy nor its content verified in any way. If you wish to get material removed from the archive or have other queries about the list contact David McDonald, list manager, phone (02) 6231 8904 or email . If you can not contact David McDonald e-mail Andrew Taylor at this address: andrewt@cse.unsw.EDU.AU