Thanks Daryl. I know you've been taking an interest in this. If the trend is increased wariness in the population, would not the level increase – subject to available nest cavities? Trapping would be effective only against unwary birds, the proportion of which can be expected to decline.
From: Daryl King [
Sent: Thursday, 27 June 2013 9:31 AM
To: Geoffrey Dabb
Cc:
Subject: Re: FW: FW: [canberrabirds] ANU Campus Bird Monitoring
Martin's population index is based on observation across all surveyed habitats - many of which contain few or no viable nest cavities.

For comparison, the graph below provides a population index based on trapping at active myna nest sites. Interestingly, annual recruitment, as reflected in the January trapping records, follows a similar trend to the index values in Martin's graph. Of course, the majority of the new recruits are surplus to the breeding population, which is limited by the availability of viable nest sites. Any trends in the size of the breeding population would be reflected by records collected in November when only breeding adults are present at nest sites. This index has not changed much since 2007.

Extending Martin's graph with the published 2011-2012 figures indicates that the observable population, rather than continuing to decline to zero as implied by the dotted curve, may have started to plateau at a level between index values 1.0 and 2.0. Given the increasing wariness of the population, it is likely to remain at something like that level provided that the number of viable nest cavities is not reduced further, or does not increase.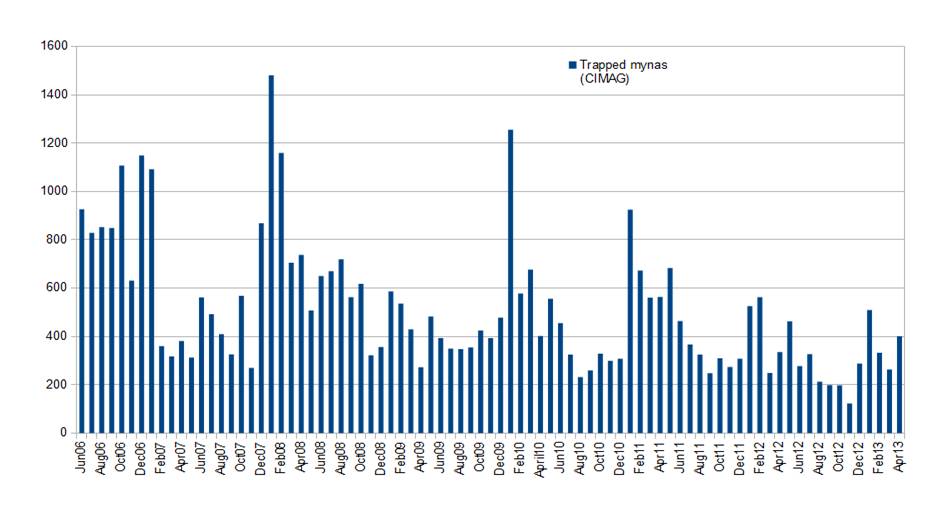 On 26/06/2013 1:38 PM, Geoffrey Dabb wrote:
This was the graph that Martin (I think) circulated last (?) year

Myna populations remain stable or increase only where they are able to occupy safe nest cavities (undetected, inaccessible or tolerated by property managers). They cannot establish or maintain a population in places where there are no available cavities. The future of mynas on the ANU campus and its associated GBS is in the hands of relevant property managers.

On 25/06/2013 12:44 PM, Geoffrey Dabb wrote:

The comparison with COG GBS data is worth a comment. The period for the comparison is presumably 2002-2012. I am surprised the PB Duck and Wood Duck respectively have the 3rd and 4th greatest GBS increase for that period. I am surprised the myna has the 5th greatest increase given a reported decline in more recent years [?]

From: Tony Lawson [m("homemail.com.au","tlawson");">]
Sent: Tuesday, 25 June 2013 11:15 AM
To: COG chatline; aNATchat Chatline
Subject: [canberrabirds] ANU Campus Bird Monitoring

The ANU has just released its report on its (extended) Campus Bird Monitoring exercise.

No virus found in this message.
Checked by AVG - www.avg.com
Version: 2013.0.3345 / Virus Database: 3199/6438 - Release Date: 06/24/13

No virus found in this message.
Checked by AVG - www.avg.com
Version: 2013.0.3345 / Virus Database: 3199/6440 - Release Date: 06/25/13