| | | |
| --- | --- | --- |
| | canberrabirds | |
ANU Campus Bird Monitoring
| | |
| --- | --- |
| To: | <> |
| Subject: | ANU Campus Bird Monitoring |
| From: | "Philip Veerman" <> |
| Date: | Tue, 25 Jun 2013 18:17:31 +1000 |
The report does correctly mention more than 30 years of the GBS but I don't see how it references that information. It does not appear to quote any prior references, notably not The GBS Report, which is just the first 21 years and stops its time relevance at the year this ANU survey started. So I don't know what it is quoting. I would not take much notice of GBS abundance changes for ducks. Those data are very influenced by changes in locations of observers over the years. Whereas I think the sites for this ANU survey have been fairly stable and include a lot of duck suitable habitat. If you reference The GBS Report the Myna was increasing in the GBS but according to recent ABR the word is, is no longer correct.
It highlights the value of an update to The GBS Report, noting the huge number of people who have asked over the years when will I issue an update and that the 3rd edition is now (I am sort of proud to say) sold out (or I have only one left and that is reserved for a student in Melbourne) and I will probably need to soon retrieve some from my agent in Europe.
It mentions the type of people that contribute to the GBS but forgot to notice that many of the same people have also assisted this ANU Campus Bird Monitoring.

There is a typo (I presume) in the below "Greygone".
The comparison with COG GBS data is worth a comment. The period for the comparison is presumably 2002-2012. I am surprised the PB Duck and Wood Duck respectively have the 3rd and 4th greatest GBS increase for that period. I am surprised the myna has the 5th greatest increase given a reported decline in more recent years [?]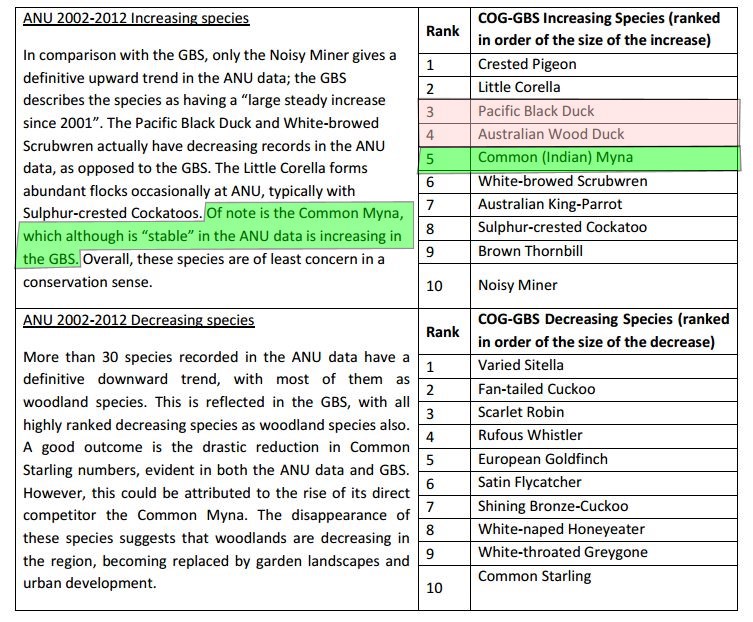 From: Tony Lawson [
Sent: Tuesday, 25 June 2013 11:15 AM
To: COG chatline; aNATchat Chatline
Subject: [canberrabirds] ANU Campus Bird Monitoring
The ANU has just released its report on its (extended) Campus Bird Monitoring exercise.
Admin
The University of NSW School of Computer and Engineering takes no responsibility for the contents of this archive. It is purely a compilation of material sent by many people to the Canberra Ornithologists Group mailing list. It has not been checked for accuracy nor its content verified in any way. If you wish to get material removed from the archive or have other queries about the list contact David McDonald, list manager, phone (02) 6231 8904 or email . If you can not contact David McDonald e-mail Andrew Taylor at this address: andrewt@cse.unsw.EDU.AU