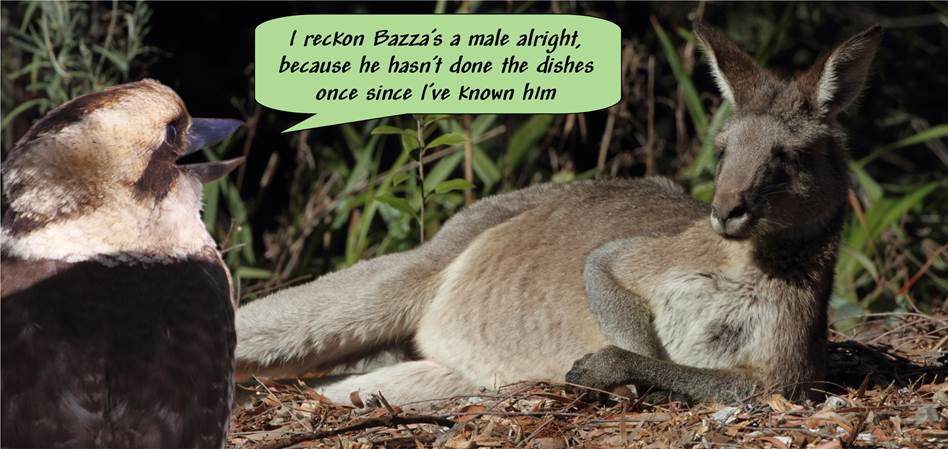 From: Philip Veerman [
Sent: Monday, 17 June 2013 4:56 PM
To: 'Margaret Leggoe'
Cc:
Subject: [canberrabirds] RE: Wobbly old man resting. -ID query
Sorry, I was not doubting your ability to tell the sex of a mammal. I was only going by what I could see in that first photo, which did not show the relevant bits. On the basis of accepting that the 2nd photo is the same animal. Yes that is a male, it shows the relevant bits. I had suggested the arms look substantial enough to be a male. Which is one of the easiest ways to tell, when you can't see the relevant bits. Even so I don't believe I have seen a male macropod sit like that, so that is curious and worth mentioning.
Removing bits is different from just seeing a photo that does not show those bits. You did not tell us it was a male, or that you had seen the relevant bits at the time, so I did not know that. The only clue was from the header of Wobbly old man. Which I didn't take as literal, it could all be an often used pun: wobbly - wallaby. As it is not actually a man either and the word "man" is regularly used as denoting both sexes of the species of human. So there was a hint but no real evidence from your earlier posting that it was a male. So I was guessing as to whether the point being the question being about its sex, rather than the species of wallaby, or even - for me now to be a little bit silly, but you did write "man" - what subclass of mammal: marsupial or placental.
So here is a quiz for everyone: How can you distinguish whether a male mammal is a marsupial or placental if all you can see is its genitals and know which end is the head end and which end is the tail end of the animal?
-----Original Message-----
From: Margaret Leggoe
Sent: Monday, 17 June 2013 4:00 PM
To: 'Philip Veerman'; m("canberrabirds.org.au","canberrabirds");">
Subject: RE: Wobbly old man resting. -ID query
Philip,
How could you doubt my ability to tell the sex of a mammal? I used to earn my living removing such things from all species of animals from cats to horses, and, yes, also pet kangaroos too.
The three I referred to were, I believe a family group, basking in the sun together. No idea about the fourth, it was just a glimpse because I was driving at the time.
Margaret.
m("N08/9065521884/lightbox/","//www.flickr.com/photos/94803194");">http:
Well it certainly isn't a Swamp (or Black-tailed) Wallaby. Apart from the comments below, the tail is clearly reddish, not black. I agree it is a Red-necked Wallaby. Funny thing is I only know of this sitting down with the tail forwards in front of the legs pose as that which the female kangaroos typically or always adopt when giving birth. If I have ever seen a male kangaroo do that, then I have forgotten. So I wonder if it is a male, as suggested by Margaret. But I could be very wrong. Maybe Margaret is calling it a Wobbly old human. The arms look substantial enough to be a male. So that is one of 4, were the others also Red-necked Wallabies?
That the Swamp (or Black-tailed) Wallaby is the more common doesn't mean this one is. I recall a day going to Corin Dam and seeing several Red-necked Wallabies. Also another day on a Land Rover club trip in the Brindabella range in which the car in front of mine (travelling at little more than a fast walking pace, up a steep hill) was struck in the windscreen no less by a Red-necked Wallaby which slowly died as we watched it. The impact was more from its speed than the car. Although the side of the road was steep it was extraordinary that it came out of the bush at such power that it collided with the windscreen of a land rover.