| | | |
| --- | --- | --- |
| | canberrabirds | |
Butcherbirds and myna traps
| | |
| --- | --- |
| To: | "Mark Clayton" <>, "'Margaret Leggoe'" <>, <> |
| Subject: | Butcherbirds and myna traps |
| From: | <> |
| Date: | Tue, 24 Jul 2012 15:13:14 +1000 |
Margaret,
If you have the standard CIMAG trap, it will have a hinged door in the holding chamber. I assume that if you happened to catch a GBB, it would go up the funnel from the trapping chamber into the holding chamber. Just open the door and it should fly out.
Cheers
Bruce
From:
Sent: Monday, July 23, 2012 9:23 PM
Subject: RE: [canberrabirds] Butcherbirds and myna traps
Margaret,
There is always the possibility that a butcherbird could get into your trap. Not knowing if you have an easily opened door or if you have to remove birds by hand and assuming it is the latter, I would strongly suggest that you watch both the beak – the hook is there for a ripping good reason, and the claws, especially the hind toe. If the bird has you and is out of the trap then just open your hand and hope!!! If it is still attached to your hand in the trap then you might have a problem. A good supply of antiseptic and bandaids could come in handy!!!
Cheers,
Mark
From: Margaret Leggoe [
Sent: Monday, 23 July 2012 6:39 PM
To:
Subject: [canberrabirds] Butcherbirds and myna traps
Does anyone know of a butcherbird having been caught in an Indian myna trap. The birds are of similar size, and Billy Bud the Butcherbird from Bussau Cls is VERY tame. I would like to set my myna trap again, but am terrified that Billy might go into it and injure himself.
Does anyone have helpful advice on this matter? Would be much appreciated.
Margaret Leggoe
Billy doing his frogmouth impersonation on the clothes line. Taken with a 100 mm lens.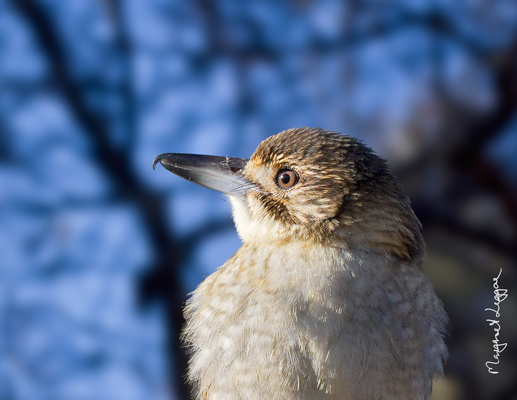 Admin
The University of NSW School of Computer and Engineering takes no responsibility for the contents of this archive. It is purely a compilation of material sent by many people to the Canberra Ornithologists Group mailing list. It has not been checked for accuracy nor its content verified in any way. If you wish to get material removed from the archive or have other queries about the list contact David McDonald, list manager, phone (02) 6231 8904 or email . If you can not contact David McDonald e-mail Andrew Taylor at this address: andrewt@cse.unsw.EDU.AU