| | | |
| --- | --- | --- |
| | canberrabirds | |
re water ski trial on Lake Gininderra
| | |
| --- | --- |
| To: | <> |
| Subject: | re water ski trial on Lake Gininderra |
| From: | "Geoffrey Dabb" <> |
| Date: | Sat, 25 Feb 2012 13:20:25 +1100 |
While looking (unsuccessfully) for my graphic comment on the earlier proposal for water-skiing on LBG, I came across this message (about the time speedboats threatened to reverberate on LBG) that might have some mildly historic interest - from the days when there was more chat on the line. It records the beginning of Callum Brae as a nature park (crikey, was it that long ago?), and was evidently the start of the Field Guide.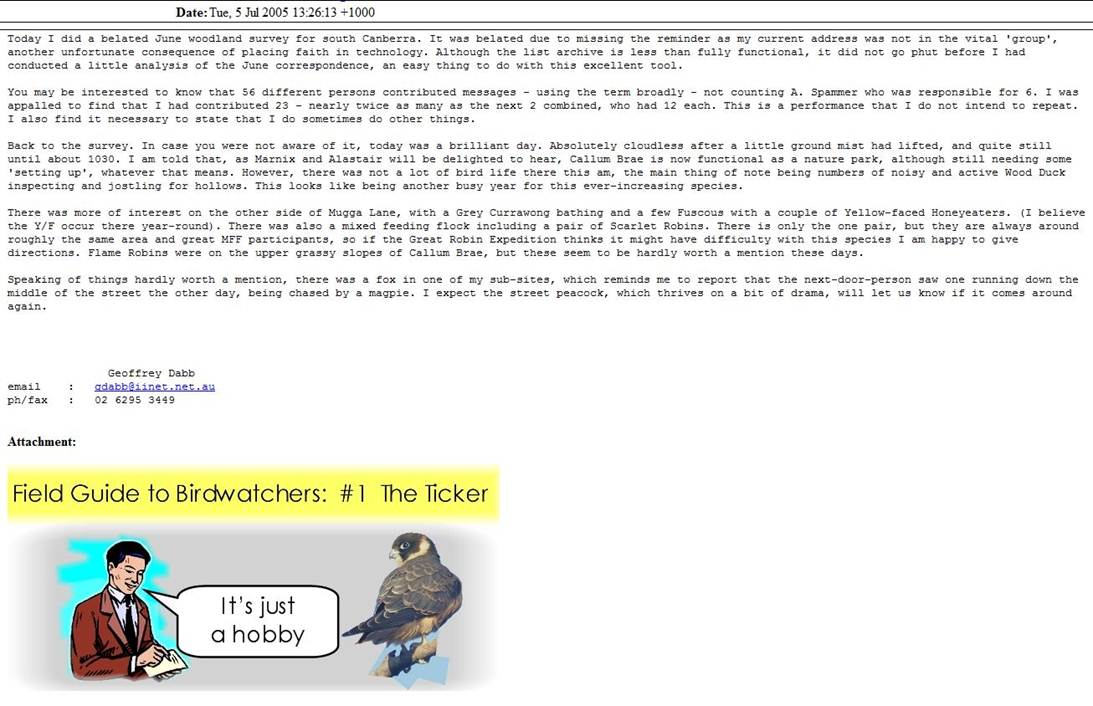 From: Chris Davey [
Sent: Saturday, 25 February 2012 12:21 PM
To:
Subject: [canberrabirds] re water ski trial on Lake Gininderra
Hi,
I have received notice from the Lakes Officer (TAMS) that there will be a trial on Lake Ginninderra to look at the feasibility of allowing a water skiing and water boarding area (no not a torture area) on the lake. The trail will go from April through to sometime in December 2012, after which there will be a period for public comment.
Admin
The University of NSW School of Computer and Engineering takes no responsibility for the contents of this archive. It is purely a compilation of material sent by many people to the Canberra Ornithologists Group mailing list. It has not been checked for accuracy nor its content verified in any way. If you wish to get material removed from the archive or have other queries about the list contact David McDonald, list manager, phone (02) 6231 8904 or email . If you can not contact David McDonald e-mail Andrew Taylor at this address: andrewt@cse.unsw.EDU.AU