This is a blue-winged parrot that I shot near Geelong. My guide told me it was a juvenile, but even so, you can see a faint orange tinge on the abdomen.
Margaret Leggoe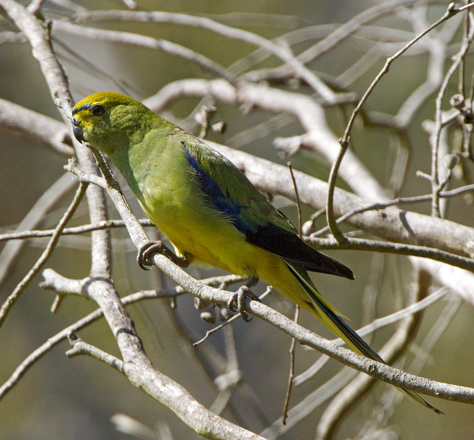 From: Lindsay Hansch [
Sent: Friday, 3 February 2012 9:35 AM
To: 'Denis Wilson'; 'COG bird discussions'
Subject: RE: [canberrabirds] Out of area - Turquoise Parrots on Main Road 92 - to Nowra
Hi Denis
Could they be Blue-winged Parrots? I know it is difficult to tell from the photos but I could not see any blue on the faces of any of the birds indicating male Turquoise.
Regards
Lindsay Hansch
---
From: Denis Wilson [m("gmail.com","peonyden");">]
Sent: Friday, 3 February 2012 1:20 AM
To: COG bird discussions
Subject: [canberrabirds] Out of area - Turquoise Parrots on Main Road 92 - to Nowra
This might interest the more adventurous COGsters,

On Thursday I was driving on the Main Road 92 (Braidwood to Nowra) when I saw a group of more than 20 birds on a Power Line which looked "unusual".
I had assumed them to be a flock of Woodswallows at first, but then realised they had long tails.
Not Fan-tailed Cuckoos (not in a group like that).
Parrots?
Yes.
Not Lorikeets.
Grass Parrots are not found in the sandstone heathlands.
They were virtually silent (also unlike Grass Parrots).
Could they possibly be Turquoise Parrots (which are known to frequent these heathlands).
But they are seldom seen.
I have never seen these birds before.

The light was truly awful - grey and misty skies.
The photos are terrible, but adequate (just) for diagnostic features to show,
After much checking I have confirmed that they were a flock of Turquoise Parrots.

This species has been reported from this area before, but seemingly not in some time.
January/February is a good time of year for them, apparently, judging by previous reports.

Between Wandian Road and Parma Road, south-west from Nowra, in the Jerrawangala National Park.
When the weather clears, I will go back in the faint hope of spotting these birds on a sunny day.

Denis Wilson
"The Nature of Robertson"
www.peonyden.blogspot.com