| | | |
| --- | --- | --- |
| | canberrabirds | |
FW: [canberrabirds] Coast and ID please
| | |
| --- | --- |
| To: | <> |
| Subject: | FW: [canberrabirds] Coast and ID please |
| From: | "Geoffrey Dabb" <> |
| Date: | Mon, 3 Mar 2008 13:06:03 +1100 |
And who can ID the insect?
From: Geoffrey Dabb [
Sent: Monday, 3 March 2008 10:33 AM
To: Julian Robinson
Subject: FW: [canberrabirds] Coast and ID please
Doesn't change my view. This is the trouble with having to deal with the limited evidence presented in a photo. The bill is one the diagnostic features we would like to see. It is only shown in one pic and it looks to me as if it is quite short. It appears artificially long in proportion because (a) the angle of view is downwards on the upper mandible ie a semi-'plan' view, obscuring the depth, rather than a side elevation and (b) the bird appears to be holding a food item. Incidentally did you notice the interesting insect in pic 2? G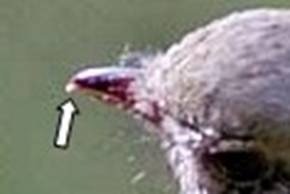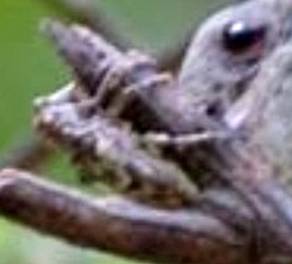 From: Beth Mantle [
Sent: Monday, 3 March 2008 9:06 AM
To: Julian Robinson
Cc: canberrabirds chatline
Subject: Re: [canberrabirds] Coast and ID please
Could it be a juvenile Pale Yellow Robin? The head and bill seem to fine and delicate for it to be a whistler, while the stance put me in mind of a robin.
At first I was thinking Jacky Winter, due to the flycatcher-type whiskers around the bird's bill, but your bird doesn't appear to be the clean grey and white that Jacky's usually are, though this might be a product of the photograph. Furthermore, adult Jacky Winters have a white supercilium, and your bird doesn't.
Due to the fact that your bird has some yellow in the wings and a white "shoulder", I thought it might be a young Pale Yellow Robin. I'm not sure if Mossy Point is too far south in their range as I'm not familiar with the NSW Coast.
I'd really love to hear what others think - I find this type of exercise so beneficial developing better observation skills.
Admin
The University of NSW School of Computer and Engineering takes no responsibility for the contents of this archive. It is purely a compilation of material sent by many people to the Canberra Ornithologists Group mailing list. It has not been checked for accuracy nor its content verified in any way. If you wish to get material removed from the archive or have other queries about the list contact David McDonald, list manager, phone (02) 6231 8904 or email . If you can not contact David McDonald e-mail Andrew Taylor at this address: andrewt@cse.unsw.EDU.AU