Did some birding during a week at Mossy Point and surrounds and (as happens with us newer hands) a few lifers for me. My two discoveries were the Eurobodalla Botanic Gardens, a must-visit place, and Coila Ck - thanks to Rod.


At the Bot Gdns :
- Black-faced Monarch
- Bassian Thrush
- Rufous Fantail (lots of them, even got a photo)
- Brown Gerygones nesting - feeding nestlings
- my mystery bird which I'm after some help identifying (at the bottom of this)
- Leaden Flycatcher
- many Jacky Winters (listed on their list as a winter bird for them)
- Fantail and maybe Brush Cuckoo immatures
- Whipbird, Oriole, YFHE, Lewins HE, etc

At Coila Ck and around Mossy Point :
- many Azure Kingfishers

- Nankeen Night Heron immature (I think - have photos but I'm thrown by green legs)

- Striated Heron

- Crested Shrike-tits, Rufous and Golden Whistlers, Thornbills, Red-brow Finches, FT Cuckoo immatures, I reckon a Pilotbird but I wouldn't really know (all brown, bigger than a rock warbler, fleeting, stayed low), Yellow Robins, Grey Fantail all occurred together in a small inlet near the top of Coila Ck, just as Rod described - Sea-eagles adult (and immature once) patrolling above the headland every evening and (also as Rod mentioned) looking spectacular in the narrow confines of Coila Ck - Rainbow Lorikeet, King Parrot, SC Cockatoo, YT Black Cockatoo, Galah, Rosellas at Mossy Pt
Pics of some including Az Kingfisher, BF Monarch and B Gerygone and nest: http://www.flickr.com/photos/ozjulian/
I'd be grateful for help on the attached bird that was at the Bot Gardens - I really have no idea. I got the impression it was small but it may have been larger I guess up to Robin or Whistler size. Basically grey all over with greenish-yellow in the wing and a tuft of white near the shoulder. Legs were grey or reddish depending on the light (see photo) and eye was dark reddish. It perched briefly outside the bird-hide then I found it later feeding on insects in bark at head height.


Julian


Attachment: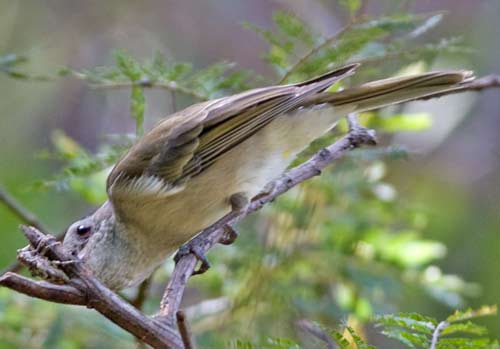 Attachment: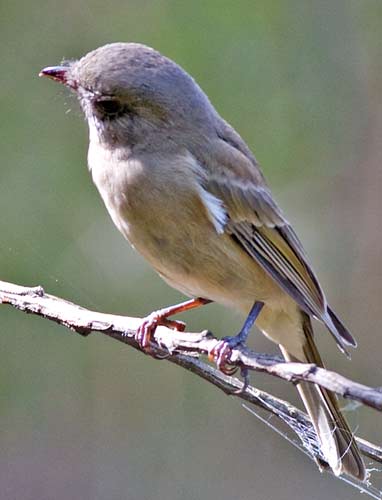 *******************************************************************************************************
This is the email announcement and discussion list of the Canberra 
Ornithologists Group.
List-Post: <>
List-Help: <>
List-Unsubscribe: <>
List-Subscribe: <>
List archive: <http://bioacoustics.cse.unsw.edu.au/archives/html/canberrabirds>
List manager: David McDonald, email 
<>