I may have overdone the rarity aspect a little bit here. The bird in the box is a Black Bittern, not yet on the ACT list. An Australasian (Brown) Bittern would be sufficiently rare and is on our list. Of course, whether the midweek walkers see a Black Bittern or a Brown Bittern they will be sure to submit a rarities report.
The bittern picture is from the large-format edition of Neville Cayley's work, still a wonderful collection of illustrations of Australian birds. The notes show that the specimen he used was in the Australian Museum and collected at Randwick, Sydney, NSW, in 1913, the year that the Palais de Danse was opened at St Kilda and the tango introduced to Melbourne.
The flying bird is a female darter, snapped over the actual sewage ponds. As most birdwatchers will know, these birds along with ibis are skilful raptor-imitators. How many times we do we raise our binoculars towards a raptorial shape only to find we are looking at one or other of those imposters?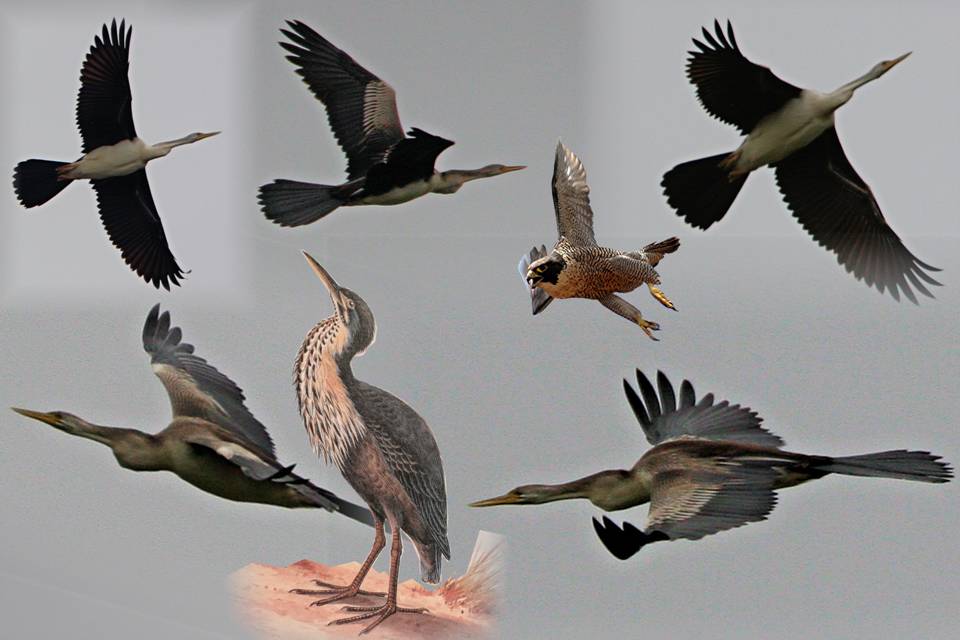 From: Geoffrey Dabb [
Sent: Thursday, 14 February 2008 10:16 AM
To:
Subject: FW: [canberrabirds] Wednesday walk next week
From: martin butterfield [
Sent: Wednesday, 13 February 2008 3:08 PM
To: COG-L
Subject: [canberrabirds] Wednesday walk next week
The Wednesday walk this month is scheduled for Jerrabombera Wetlands next Wednesday 20 February. We'll meet at the car park at Kelly's Swamp at 9am .
I am thinking of going to some of the less explored parts of the area (eg the embankment between the silt trap and the school and the Northside of the River past the footbridge) as well as the usual spots. If time and enthusiasm permit we may then transfer to the ACTEW carpark to sign the book and examine the sewage ponds).
Hoped-for birds could include Little Bittern and Spotted harrier in addition to the usual suspects.