There have been several reports of musk ducks at Yerrabi Pond over the last couple of months.
This afternoon (05/02/06) there were five there.
One was an adult male which spent much of the afternoon "displaying",
or so it appeared to a non-trained eye.
The other four seemed to be smaller than he, but pretty much the same as each other,
but of course they wouldn't pose together for a decent comparison.
I was concentrating on the male but observed one of the others stand in the water and flap its wings.
The wings seemed to be be about half the length i would expect for an adult bird.
The duck had of course sunk back into the water by the time i had pointed the binoculars at it so I can't be certain.
If i saw what i think i saw then it would indicate breeding on the lake or nearby.
I have lots of photos but can see nothing in them to confirm/deny that they are of a 3 or 4 month old.
Here are a couple of pictures in case some body can confirm/deny my premise.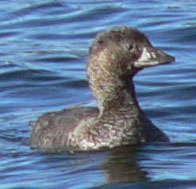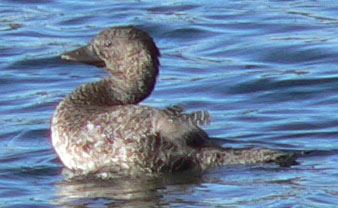 roger curnow.