More information -
This is a group of kookaburras I often see - I took the photograph from my 
balcony, and they were not far away. There was a group of four and the 'battle' 
lasted around 5 minutes.  I saw the beak hanging behaviour twice. Afterwards 
they all flew off together. I did wonder if there were juveniles involved.

This is another photo of the two involved.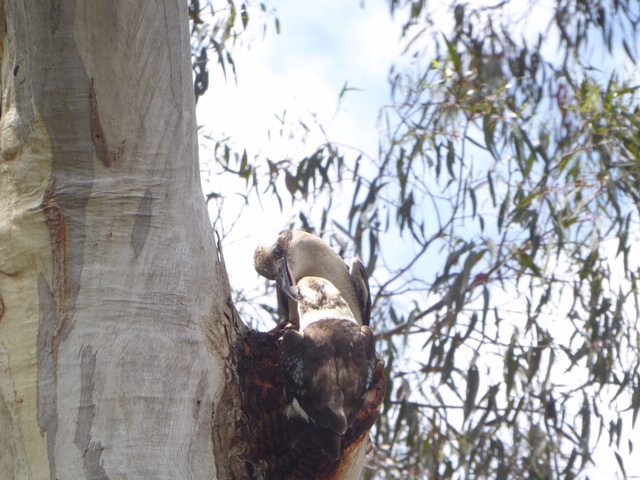 Sent from my iPad

> On 31 Oct 2018, at 5:13 pm, Carol Probets <> wrote:
>
> Susan, I think this was a fascinating observation and extra kudos for 
> capturing the behaviour in a photo.
>
> Three possibilities come to mind for me: (a) play, (b) establishing dominance 
> within a group, or (c) territorial fighting with an outsider. The behaviour 
> around the incident will suggest which it was. Did the bird on the receiving 
> end of the altercation flee afterwards, or did all seem to return to normal? 
> Kookaburras are particularly aggressive in their defence of territory and if 
> an individual strays into another group's territory, it's possible for a 
> fight to the death to ensue.
>
> Additionally, I think your photo illustrates well how strong a kookaburra's 
> neck muscles are. These attach to a special bony ridge at the back of the 
> skull and enable the bird to beat its prey with great force. And, it seems, 
> to hold and dangle a rival by its head.
>
> Cheers,
>
> Carol
>
>
>
>
>> On 31 Oct 2018, at 3:43 pm, Philip Veerman <> wrote:
>>
>> Sure is an odd picture. I suggest it is just one of those odd moments that a
>> camera is able to record, that would otherwise be lost. As I see it, it is
>> not "one of the birds was completely suspended by the beak". The grip is on
>> the feathers of the face. I don't see anything requiring any explanation,
>> other than just a moment of drama in a fight. Could be wrong of
>> course.........
>>
>> Philip
>>
>> -----Original Message-----
>> From: Birding-Aus  On Behalf Of
>> Susan Pepper
>> Sent: Wednesday, 31 October, 2018 2:06 PM
>> To: 
>> Subject: [Birding-Aus] Kookaburra behaviour
>>
>> I have just been watching some kookaburras and witnessed behaviour I have
>> not seen before. I am curious to know if any one can explain it. Two of them
>> appeared to be fighting with their beaks, and twice one of the birds was
>> completely suspended by the beak with the other kookaburra holding it.  Is
>> this normal for the species?
>>
>> Thanks
>> Susan, Mooroolbark.
>>
>>
>>
>> <HR>
>> <BR> Birding-Aus mailing list
>> <BR> 
>> <BR> To change settings or unsubscribe visit:
>> <BR> http://birding-aus.org/mailman/listinfo/birding-aus_birding-aus.org
>> </HR>
>

<HR>
<BR> Birding-Aus mailing list
<BR> 
<BR> To change settings or unsubscribe visit:
<BR> http://birding-aus.org/mailman/listinfo/birding-aus_birding-aus.org
</HR>