| | | |
| --- | --- | --- |
| | birding-aus | |
Emailing: PC090053, PC090054
| | |
| --- | --- |
| To: | <> |
| Subject: | Emailing: PC090053, PC090054 |
| From: | "sherriandglenn" <> |
| Date: | Sun, 9 Dec 2007 09:29:48 +0800 |
Hi can you help please I picked this magi up this morning it must have blown 
out of the nest and was getting attacked, by the older ones. I live on 5 acres 
and went round to all the nests and they all seem the same amount of babies. I 
do not think it is one from my place. I would like to raise it till old enough 
to free. I need to know how often to feed it and basic care.

Regards

Sherri Campbell
The message is ready to be sent with the following file or link attachments:
PC090053
PC090054

Note: To protect against computer viruses, e-mail programs may prevent sending 
or receiving certain types of file attachments.  Check your e-mail security 
settings to determine how attachments are handled.
Attachment: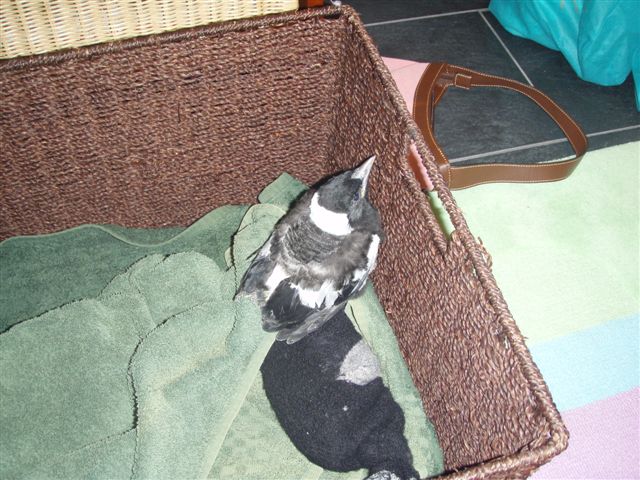 Attachment: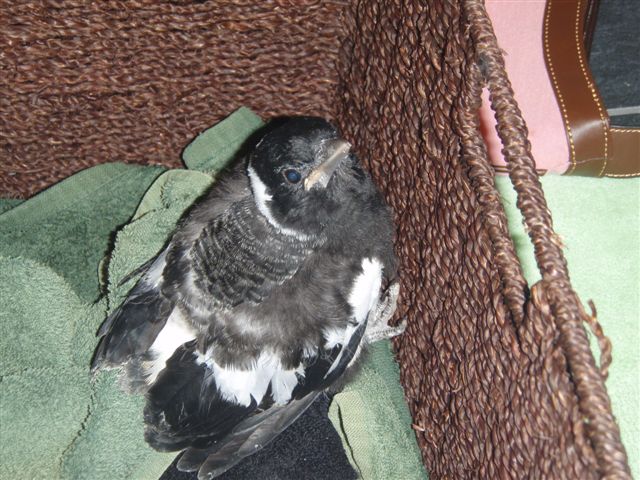 ===============================
www.birding-aus.org
birding-aus.blogspot.com

To unsubscribe from this mailing list, 
send the message:
unsubscribe 
(in the body of the message, with no Subject line)
to: 
===============================
<Prev in Thread]
Current Thread
[Next in Thread>

Emailing: PC090053, PC090054, sherriandglenn <=
Admin
The University of NSW School of Computer and Engineering takes no responsibility for the contents of this archive. It is purely a compilation of material sent by many people to the birding-aus mailing list. It has not been checked for accuracy nor its content verified in any way. If you wish to get material removed from the archive or have other queries about the archive e-mail Andrew Taylor at this address: andrewt@cse.unsw.EDU.AU