| | | |
| --- | --- | --- |
| | canberrabirds | |
FW: Tips on seeing the purple-crowned lorikeet
| | |
| --- | --- |
| To: | Canberrabirds <> |
| Subject: | FW: Tips on seeing the purple-crowned lorikeet |
| From: | Geoffrey Dabb <> |
| Date: | Sun, 12 Feb 2023 04:22:37 +0000 |
When we had 3 in Cook in 2013, the pattern was they would doze or preen quietly in food tree after active feeding. Usual speculation whether escapes or wanderers. A little graphic from then.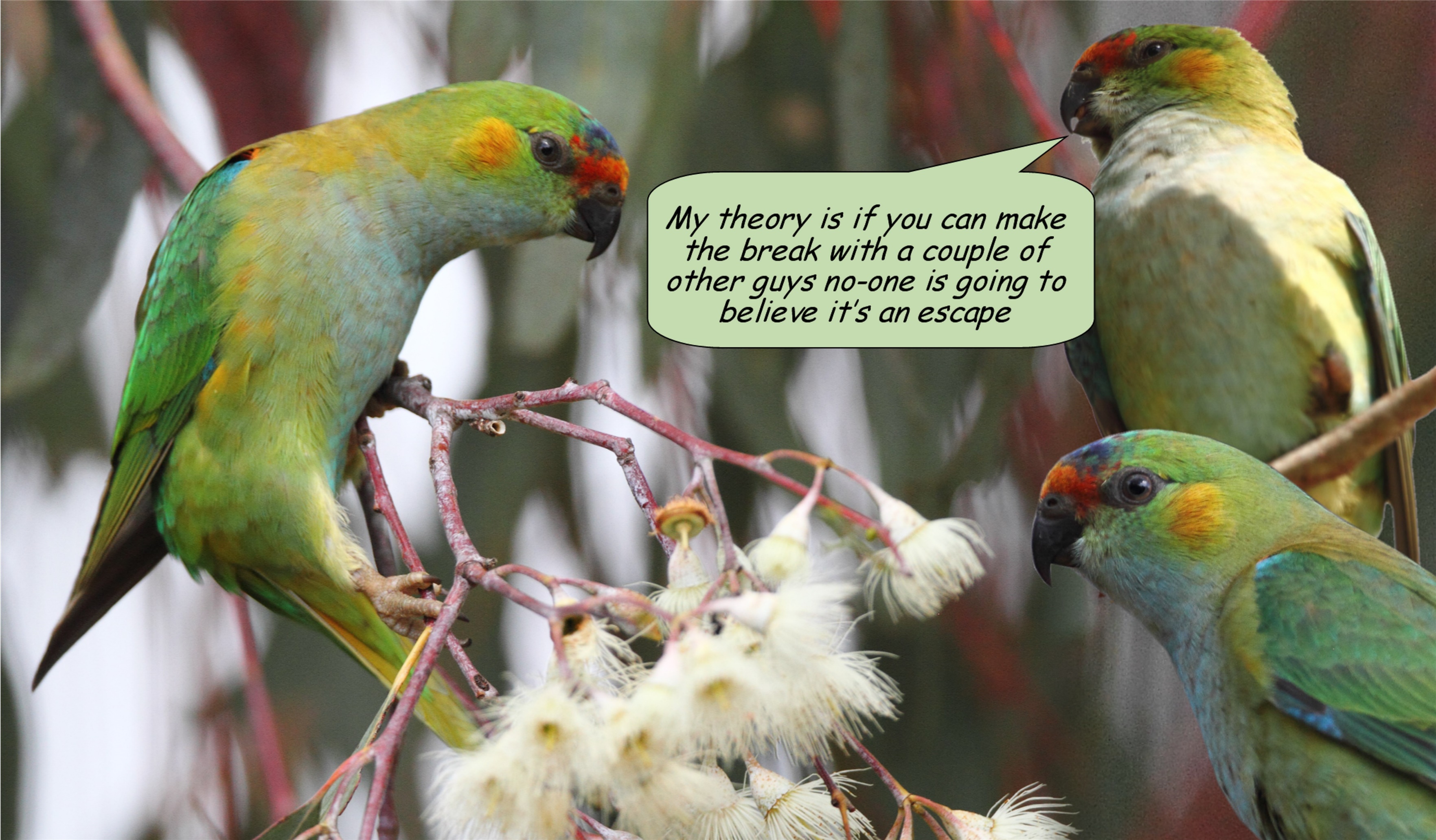 From: Canberrabirds <> On Behalf Of Tony Nairn via Canberrabirds
Sent: Sunday, 12 February 2023 2:44 PM
To: Kim Farley <>
Cc: Canberrabirds <>
Subject: Re: [Canberrabirds] Tips on seeing the purple-crowned lorikeet
Though I saw one Purple-crowned Lorikeet yesterday afternoon at around 6pm with quite a few other people. So later in the day may work for you.
In the tall white-flowered eucalypt behind the cafe. The lorikeet is tiny and hides in amongst the leaves and flowers very easily. It occasionally flew to a different part of the tree and could be spotted then.
Good luck - it's a very pretty bird
On Sun, 12 Feb 2023, 2:11 pm Kim Farley via Canberrabirds, <> wrote:
Hi Meke

Suggest you go as early in the morning as you can manage. No-one seems to be reporting them after about 11.00am. I was there yesterday twice during the afternoon and the trees by the cafe were silent - not even Rainbow Lorikeets were present. And yes the call is different. Check your app or eBird to hear the difference, but with only two Purple-crowned present among about 50 Rainbows the calls will be difficult to pick up. I found naked eye observation the best as the birds move around so quickly.

On Sun, Feb 12, 2023 at 12:19 PM Rob Geraghty via Canberrabirds <> wrote:

I tried this morning with no luck. As far as I know all the sightings have been in a big flowering Eucalyptus tree behind the Cafe. I got a brief sighting of one yesterday afternoon. The call is higher and different to the Rainbow Lorikeets. More like a Little Lorikeet. There's a few other trees flowering nearby.

On Sun, 12 Feb 2023, 12:05 Meke Kamps, <> wrote:

Dear all

I've seen the buzz around the purple-crowned lorikeet on Facebook, but haven't had the chance to get out to Bowen Park yet due to work and family commitments. Anyone have the inside scoop on whether it may still pop up this afternoon in that area, or is it likely to have moved on by now?

Meke
--
This is the email announcement and discussion list of the Canberra Ornithologists Group.
Emails posted to the list that exceed 2 MB (2,000 kB) in size, including attachments, will be rejected.
All emails distributed via the list are archived at http://bioacoustics.cse.unsw.edu.au/archives/html/canberrabirds. It is a condition of list membership that you agree to your contributions being archived.

Canberrabirds mailing list

https://lists.canberrabirds.org.au/mailman/listinfo/canberrabirds

--
This is the email announcement and discussion list of the Canberra Ornithologists Group.
Emails posted to the list that exceed 2 MB (2,000 kB) in size, including attachments, will be rejected.
All emails distributed via the list are archived at http://bioacoustics.cse.unsw.edu.au/archives/html/canberrabirds. It is a condition of list membership that you agree to your contributions being archived.

Canberrabirds mailing list

https://lists.canberrabirds.org.au/mailman/listinfo/canberrabirds

--
This is the email announcement and discussion list of the Canberra Ornithologists Group.
Emails posted to the list that exceed 2 MB (2,000 kB) in size, including attachments, will be rejected.
All emails distributed via the list are archived at http://bioacoustics.cse.unsw.edu.au/archives/html/canberrabirds. It is a condition of list membership that you agree to your contributions being archived.

Canberrabirds mailing list

https://lists.canberrabirds.org.au/mailman/listinfo/canberrabirds

Untitled attachment 00057.txt
Description: Untitled attachment 00057.txt

ATT00001.txt
Description: ATT00001.txt
Admin
The University of NSW School of Computer and Engineering takes no responsibility for the contents of this archive. It is purely a compilation of material sent by many people to the Canberra Ornithologists Group mailing list. It has not been checked for accuracy nor its content verified in any way. If you wish to get material removed from the archive or have other queries about the list contact David McDonald, list manager, phone (02) 6231 8904 or email . If you can not contact David McDonald e-mail Andrew Taylor at this address: andrewt@cse.unsw.EDU.AU