| | | |
| --- | --- | --- |
| | canberrabirds | |
FW: Gigerline Nature reserve
| | |
| --- | --- |
| To: | Canberrabirds <> |
| Subject: | FW: Gigerline Nature reserve |
| From: | Geoffrey Dabb <> |
| Date: | Tue, 24 Jan 2023 05:59:19 +0000 |
Of course Martin is correct. The AllTrails website shows the Guises Creek walk from Angle Crossing Rd proceeding north along the edge of the reserve, then into it. A stroll of about 2.5km should get you there.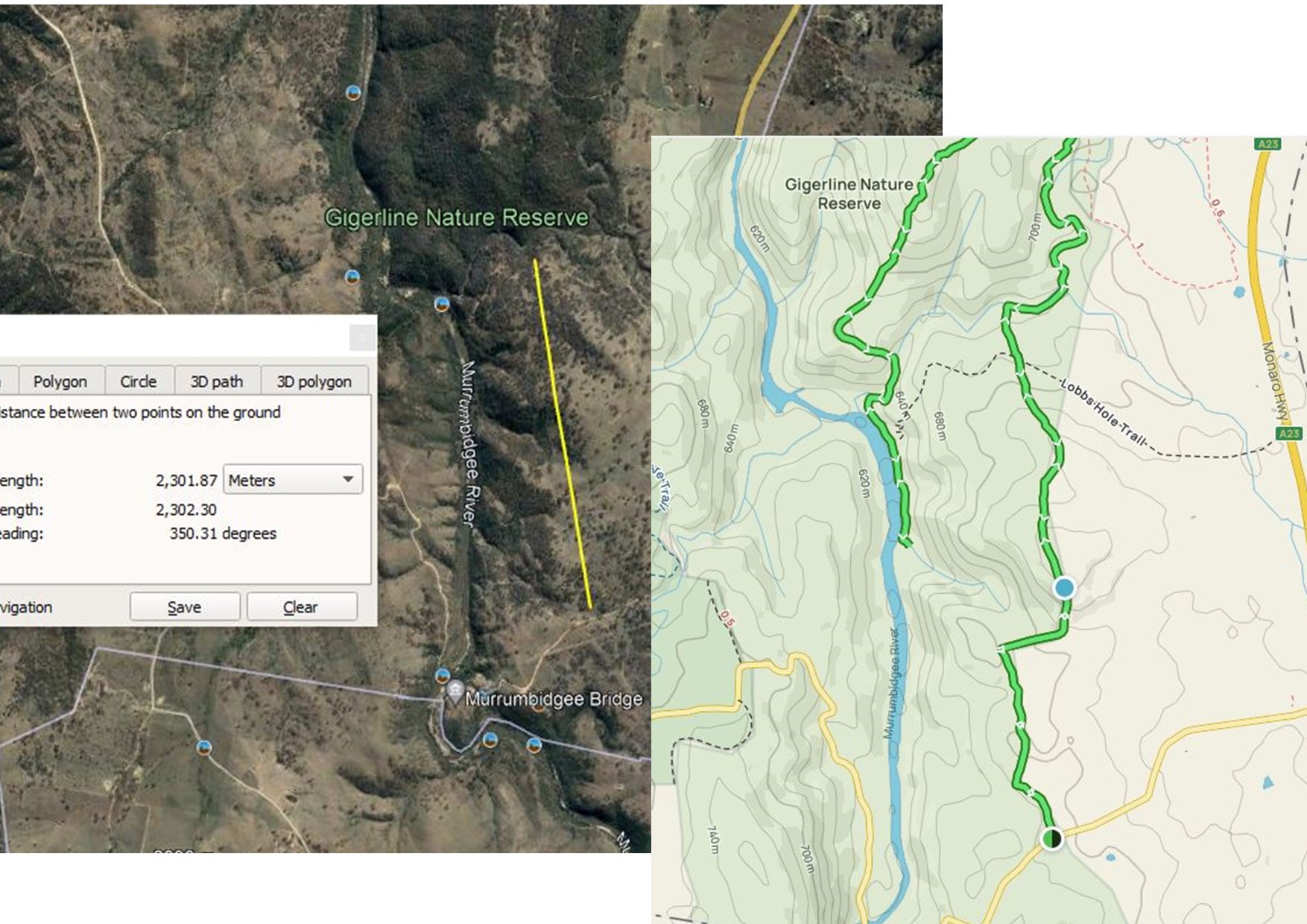 From: Canberrabirds <> On Behalf Of Martin Butterfield via Canberrabirds
Sent: Tuesday, 24 January 2023 3:24 PM
To: Kim Farley <>
Cc: CanberraBirds email list <>
Subject: Re: [Canberrabirds] Gigerline Nature reserve
I think it needs to be flagged "No access from Monaro Highway or Williamsdale TSR". The Hotspot is Gigerline Nature Reserve which should be able to be accessed from Angle Crossing. The Canberra Bushwalking Club should know more about this.
On Tue, 24 Jan 2023 at 14:44, Kim Farley via Canberrabirds <> wrote:
Hi all

Sorry to come to this discussion rather late. I have been away on family matters for a little while. I will consult with Sue B on this matter revise any Hotspot name (eg to mark the Hotspot no access).

On Sun, Jan 22, 2023 at 3:05 PM <> wrote:

Hi All,

I'm telling you about my frustrating morning in hope of saving any other optimists from sharing it. The Gigerline Nature Reserve hotspot as we know it - walking down Lobbs Hole Track from the little substation (or whatever) on the Monaro Hwy near Williansdale, is now inaccessible. The gate across the creek that we used to climb through or around now has signs saying, in large new letters, "Private. Keep out. Area under video surveillance". Enough to deter me ☹.
I could find no easy way around.

I know there was chat about this last year sometime, but I convinced myself that it couldn't mean MY favourite go-to spot for Chestnut-rumped Heathwren and Yellow-tufted Honeyeaters.

This raises a few questions. One of them is what does that hotspot mean now? Looking at the maps, the nature reserve starts about halfway down the track, and the birds I want to see are actually in the reserve. So another question is how is it legal for lessees to effectively take over ownership of public land by making it inaccessible to us?? Shouldn't there be a right-of-way or something down Lobbs Hole Track at least? Just sounding off. Thanks for listening...

Yours in great frustration,

Sue Beatty


--
This email has been checked for viruses by AVG antivirus software.
www.avg.com
--
This is the email announcement and discussion list of the Canberra Ornithologists Group.
Emails posted to the list that exceed 2 MB (2,000 kB) in size, including attachments, will be rejected.
All emails distributed via the list are archived at http://bioacoustics.cse.unsw.edu.au/archives/html/canberrabirds. It is a condition of list membership that you agree to your contributions being archived.

Canberrabirds mailing list

https://lists.canberrabirds.org.au/mailman/listinfo/canberrabirds

--
This is the email announcement and discussion list of the Canberra Ornithologists Group.
Emails posted to the list that exceed 2 MB (2,000 kB) in size, including attachments, will be rejected.
All emails distributed via the list are archived at http://bioacoustics.cse.unsw.edu.au/archives/html/canberrabirds. It is a condition of list membership that you agree to your contributions being archived.

Canberrabirds mailing list

https://lists.canberrabirds.org.au/mailman/listinfo/canberrabirds

Untitled attachment 00158.txt
Description: Untitled attachment 00158.txt

ATT00001.txt
Description: ATT00001.txt
<Prev in Thread]
Current Thread
[Next in Thread>

Gigerline Nature reserve, sbeatty@grapevine.com.au

FW: Gigerline Nature reserve, Geoffrey Dabb
FW: Gigerline Nature reserve, Martin Butterfield via Canberrabirds
FW: Gigerline Nature reserve, Steve Read via Canberrabirds
Gigerline Nature reserve, calyptorhynchus via Canberrabirds
Gigerline Nature reserve, Ian Fraser
Gigerline Nature reserve, Kim Farley via Canberrabirds
Gigerline Nature reserve, Martin Butterfield via Canberrabirds
Gigerline Nature reserve, sbeatty@grapevine.com.au
FW: Gigerline Nature reserve, Geoffrey Dabb <=
FW: Gigerline Nature reserve, sbeatty@grapevine.com.au
FW: Gigerline Nature reserve, shorty via Canberrabirds
Admin
The University of NSW School of Computer and Engineering takes no responsibility for the contents of this archive. It is purely a compilation of material sent by many people to the Canberra Ornithologists Group mailing list. It has not been checked for accuracy nor its content verified in any way. If you wish to get material removed from the archive or have other queries about the list contact David McDonald, list manager, phone (02) 6231 8904 or email . If you can not contact David McDonald e-mail Andrew Taylor at this address: andrewt@cse.unsw.EDU.AU