I think I can nominate Koel as our most weirdly misidentified bird. This story below of a young Koel called a name that is a Tropicbird. In that case it was accompanied by a hint that the person actually could have had the start of an idea what a Golden Bosun is. Several weeks ago I wrote about a friend of mine who reported a Pacific Golden Plover perched on the power lines in his Pearce garden. He pointed it out to me by bringing in Neil Hermes' new book but it was a female Koel (he had managed a few poor photos). About a year ago there was the one of the person who reported a Peregrine Falcon eating her tomatoes in her garden, photos showed it to also be a Koel.
What is strange is in each case the person did just ignore it and did not ask what is this, which would be the usual thing, but came up with an obscure ID that is not even remotely look alike. Sort of like seeing an Action bus and calling it an ambulance.
Philip
From: Canberrabirds [ On Behalf Of Geoffrey Dabb
Sent: Tuesday, 17 January, 2023 10:10 AM
To: 'John Layton';
Subject: Re: [Canberrabirds] "Golden Bosun Bird"
John - In that brief story you have brought together two topics that have interested me for some time. The first is the remarkable plumage variations within this species, starting with the difference between sexes. Then, even among individuals we see here, there are variations between adult females, some with black crowns, some with tawny crowns. The background colour of female underparts can vary from white to warm buff. The rapid development of plumage of the young has been written about, including in Canberra Bird Notes. If you watch the development in a fledgling over its first few weeks you can almost see it change, as it moves towards male or female plumage. To generalise, nestlings can seem quite pale, but lose the golden-buff and become more brownish whether they are male or female.
The second issue is how people describe colours. 'Golden' means different things. Consider the 'golden' of a Golden Eagle (or Golden Retriever) and the 'golden' of a Golden Bowerbird. Then there is the complication that the light can make such a difference to what we see. On some days In Canberra, with full sun or light haze, there are a few minutes after sunrise when everything is bathed in strong golden light. For the photographer, there is a question whether an image captured in such conditions can be described as 'natural'.
Getting back to the young koel, below is one in the nest at a pale stage. 1 is an unedited snap of the bird in moderate light conditions. 2a has been edited to show a possible effect of very strong light. 2b shows the bird as it did not exist, but might possibly be recalled in the memory of an impressionable observer.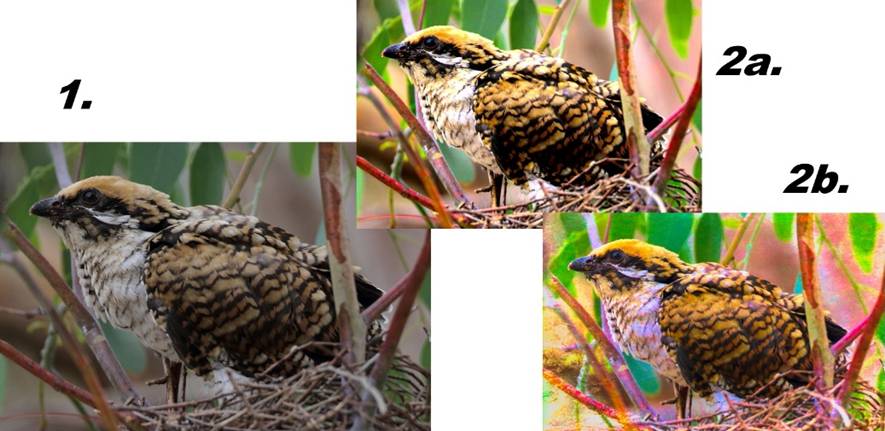 From: Canberrabirds <> On Behalf Of John Layton via Canberrabirds
Sent: Tuesday, 17 January 2023 7:22 AM
To:
Subject: [Canberrabirds] "Golden Bosun Bird"
The Golden Bosun Bird of Weetangera
Received an excited phone call from a non-birding friend yesterday morning to say there was a "Golden Bosun" in his fig tree. I expressed extreme doubt, nonetheless, he couldn't imagine that it was anything else. He had seen Golden Bosuns in a documentary about Christmas Island one time. (😁)
"You must see come over quick and look, it positively glows like gold when the sun's on it."
"Fool's gold," I thought but said nothing and drove to Weetangera where I was just in time to get a good view of a remarkably golden coloured young koel before a clangour of Pied Currawongs sent it to a large plum tree in a neighbouring yard. Except for currawongs, no other birds were seen near it.
I'm still very much on a learning curve when it comes to koels and haven't noticed a young one before, certainly not one sporting such remarkably golden plumage. Put it this way, on a scale of one to ten indicating the degree of golden colour, this chick would score a good number 9. Would it be an unusual specimen?
John Layton
Holt.