There is nothing like having a look for yourself. Yesterday I did some walking on the margins of the floodplain. The photo at left below shows the red channel as it emerges from under Dairy Road and pursues a course north-west to the Shoveler Pool complex, with which it has probably merged. There is water everywhere. Below is a view of the present extent of Shoveler Pool which has a few birds making use of it, although no actual shovelers that I could see. A deceased Barn Owl was lying by the multi-user pathway alongside Dairy Road.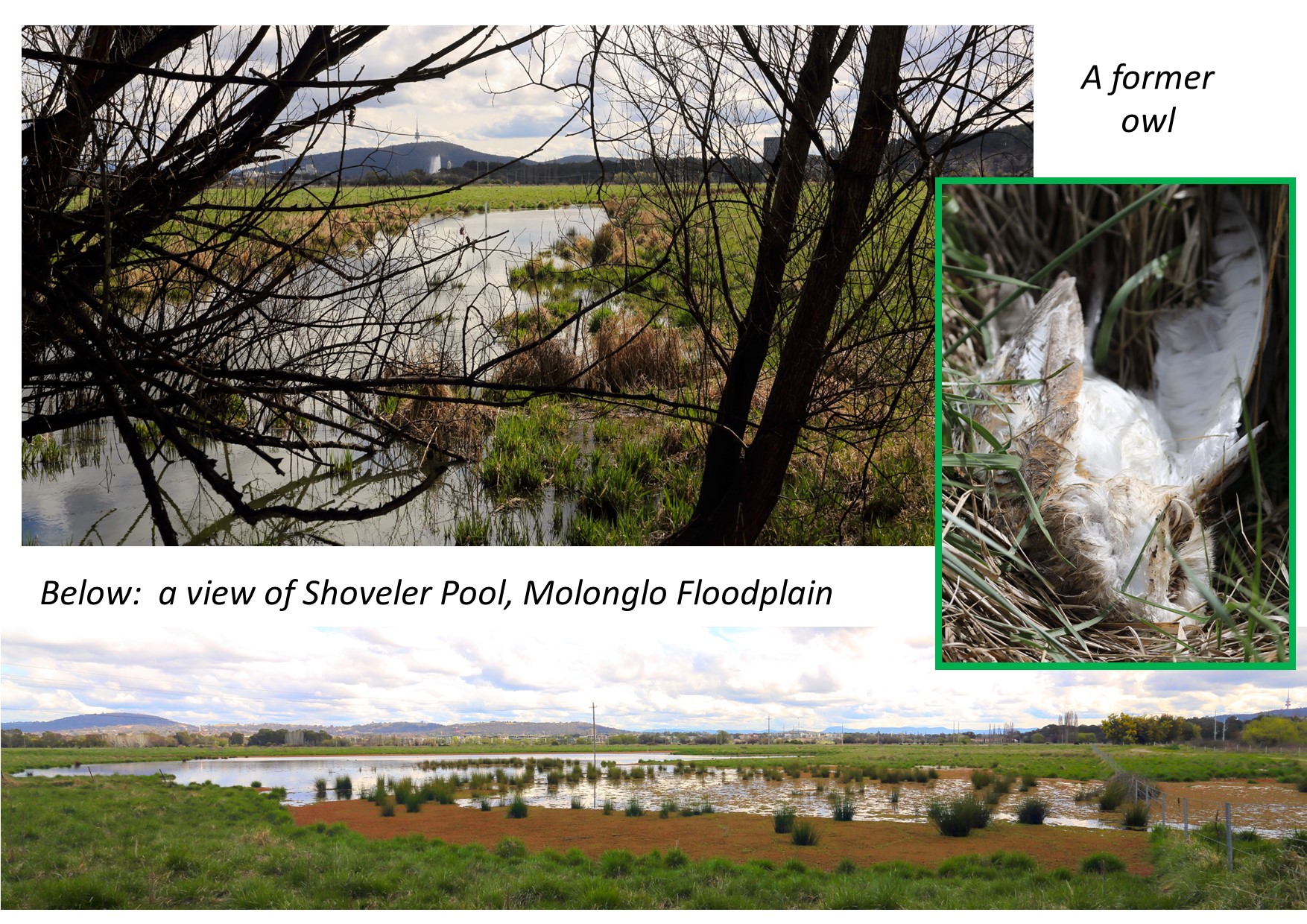 From: Canberrabirds <> On Behalf Of Geoffrey Dabb
Sent: Saturday, 3 September 2022 3:54 PM
To: Canberrabirds <>
Subject: [Canberrabirds] FW: While we are on the subject of wetlands
Thank you all for your interest in this matter. I have since looked into the mapping in the 2013 Butz report and the 2014 JWNR 'Concept Plan'. This confirms the existence of the channel I have indicated (called here for convenience 'the red channel'). However, I should make the following corrections/clarifications.
The pool at 'C' has a name, 'Goldenholm Pond', being the name of a former dairy that was located at the present turf farm offices. The pool near 'D' is part of an old channel, but the name 'Shoveler Pool' is usually applied to the pool (sometimes connected) shown further to the north. (See Concept Plan.)
The north-south channel that enters Jerra Creek at 'F' is of human construction and is known as the Causeway Channel.
There is an unresolved question how the red channel, and similar channels, should be described. According to an authority cited in the Butz report, the red channel is an 'active flood channel', the term 'palaeo channel' being applied to features of a greater age, Jerrabomberra Billabong being an example. However, the Butz report uses 'palaeochannel' for what might otherwise be called existing 'flood channels' (see Table 11). The red channel is designated Palaeochannel 8 and 14 at different points. The Concept Plan reserves the term 'Palaeochannels' for the shallow gullies to the west of the vehicle track that are now flooded to variable levels depending on the level of Lake Burley Griffin. This does not seem to me to fit the dictionary definition of 'palaeochannel' but I am sure there will be experts out there who will know more about this.