Hello COG members and chat line subscribers, I am positing this as I'm sure many of you would be interested in Russell's latest publication. Unfortunately I have had to remove the PDF attachment as it is too large, but I'm happy to send it to you individually if you wish. Jack Holland
From: Russell McGregor <>
Sent: Saturday, 2 July 2022 8:29 AM
To: Vincent Lee <>; Claire Brennan <>; Cecile Espigole <>; John Kooistra <>; ; Greg Roberts <>; Graham Parr <>; Joseph, Leo (NCMI, Crace) <>; Peter Leaver <>; Peter Valentine <>; ; Patrick Noonan <>; Pat Comben <>; Danielle Jesser <>; Rohan Lloyd <>; Andrew Isles Natural History Books <>; Andrew Cockburn <>; ; Russ Lamb <>; ; ; Philip Venables <>; brian lewis Venables <>; ; Philip Veerman <>; ; Bernadette Hince <>; Geoffrey Dabb <>; Jack Holland <>; Hugh McGregor <>; 'Lindsay Trott <>; Heidi STREINER <>; ; Jacqui Stockdale <>; ; ; Tom Collis <>; Ian Abbott <>; Walter Boles <>; Jeff Davies <>; 'Ron Johnstone' <>; Gabriel M Crowley <>; 'William E Davis' <>; ; Martin Painter <>; Alan Burns <>; Arthur Pearson <>; Natasha Harris <>; Judith Hoyle <>; ; ; GazandDeb Q <>; ; ; ; John Brinnand <>; ; ; ; 'Berry Doak' <>; ; <>; Don Franklin <>
Subject: Birding field guides
Hi
We all use field guides and they can tell us a lot, not just about birds but about birding too. I've just published an article on the history of Australian field guides up to Slater's in 1970 – there were more than you might imagine. It's in Australian Field Ornithology and you can access it here: https://www.birdlife.org.au/afo/index.php/afo/article/view/2262 . In case you can't access it, I've attached a PDF.
Hope you enjoy it
Russell
Russell McGregor
Adjunct Professor of History
College of Arts, Society and Education
James Cook University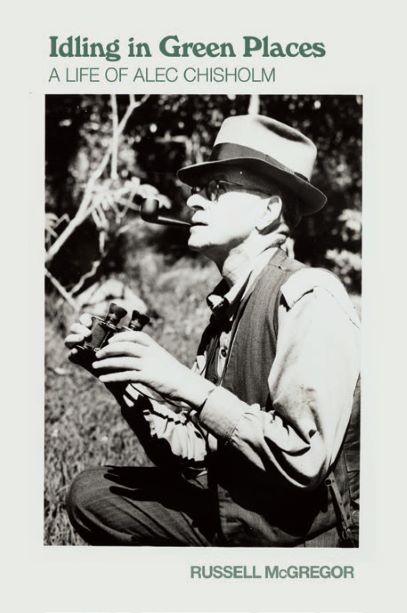 My latest book, Idling in Green Places: A life of Alec Chisholm, was shortlisted for the 2020 National Biography Award.
My latest Conversation piece is on what the extinction of the Paradise Parrot means to us today: https://theconversation.com/100-years-ago-this-man-discovered-an-exquisite-parrot-thought-to-be-extinct-what-came-next-is-a-tragedy-we-must-not-repeat-171939.
My latest article, in Historical Records of Australian Science, takes a look at Australia's first field guide, J. A. Leach's An Australian Bird Book: https://www.publish.csiro.au/HR/HR21010