And the Joy of Being Corrected. Wrong nest, wrong lake.
Barbara has pointed out that HER nest was successful. Jenny Bounds' summary mentions both nests: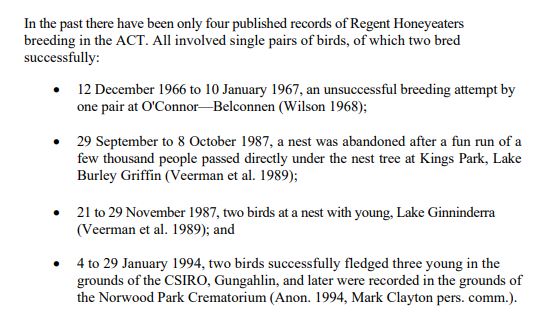 Sadly, these significant 1987 records are on an ABR page that failed to scan in CBN vol 14 on the website.
From: Canberrabirds <> On Behalf Of Geoffrey Dabb
Sent: Sunday, 17 October 2021 9:58 AM
To: Canberrabirds <>
Subject: [Canberrabirds] Birds and Sport
In the forthcoming book 'One Hundred Interactions Between Birds and People in Canberra', a short chapter will be devoted to 'Birds and Sport'. This will include observations by Graeme Clifton while umpiring cricket matches, hobby sightings at brightly lit night events, and birds becoming entangled with fishing lures. It will certainly include Barbara Allan's story about the Regent Honeyeater nest failure when 100s (1000s?) of fun runners passed within a few metres. There are too many reports of birds seen by (or swooping at) cyclists, so for inclusion in this chapter a cyclist will need to have had a bird experience while participating in a major organised cycling event. Among other organised events that affect birds, and vice versa, orienteering comes to mind. I see that an orienteering event at Callum Brae in early November has been cancelled on the ground that 'it could cause disturbance to nesting birds given it is peak breeding season'. I wonder (only 'wonder' because I lack the energy to investigate further) whether the same policy has been applied to other woodland areas. For example, Campbell Park is an orienteering as well as a bird-seeking hotspot, with several events there in a normal year. I remember, one year, passing by nesting Painted Honeyeaters. The 'Birds and Sport' chapter is fairly short because it does it does not cover mildly sportive activities such as bush-walking - or photography. For that, you will need to consult the longer chapter 'Birds and Photographers'.