Many thanks Robin, I am preparing my presentation on the ACT Koel for the COG meeting and one slide makes the following points which I'll also illustrate with photos (but field guides also show)
Female spotted on back, black head/under chin
Fledgling/juvenile barred back and wings, often a golden crown, tail may be short but grows, as does amount of black on crown and under chin
Fledgling colour can be very variable from very light to quite golden, to quite brown
Based on that yours is definitely a juvenile, a relatively advanced one based on the long tail and amount of black around the head/chin, and also likely a male based on the amount of black on the nape and upper wing.
Yours is now the 87th for the season I'm aware of, equal to the most in any previous season, it's been a bumper year for them (27 in the past week alone).
Jack Holland
From: Canberrabirds <> On Behalf Of Robin Hide via Canberrabirds
Sent: Tuesday, 2 February 2021 3:10 PM
To:
Subject: [Canberrabirds] Distinguishing female and juvenile Koels
Yesterday (1 Feb 2021) our Ainslie garden had a very brief visit by what I thought was an adult female Koel (quickly husled away by a currawong and R Wattle Birds) but I'm wondering what are considered the main features distinguishing the colouring of females and juveniles?
This is the bird: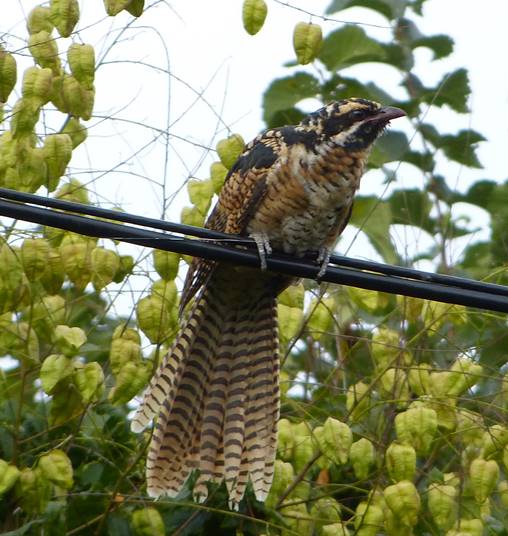 Robin