Hi All,
For info.
We were down a little bit on sites for the September counts as several birders were away but my feeling is that if we counted all our sites we may have got as many as 50 or 60. This is just a guess based on incidental reports from key sites that weren't surveyed like Horse Park Wetlands and Belconnen Ponds. This is not a big issue as we are building up our data having been surveying now for several years.
Cheers Lori
Lori Gould
Program Manager
Woodlands and Wetlands Trust (Jerrabomberra Wetlands)
M: 0439 030 058
PO Box 58 Fyshwick ACT 2609
www.woodlandsandwetlands.org.au
From: Birgita Hansen <>
Sent: Thursday, 24 October 2019 3:07 PM
Cc: Jodie Honan <>; Sherril And Don Stewart <>; Dan Weller <>
Subject: Survey results from Sept 21
Hi everyone
Firstly can I congratulate those of you who got out and surveyed for the September 21 count. We had some absolutely marvellous results. We were also very fortunate to have quite a few new sites added in various parts of the country. Thanks in particular to April for helping spread the word in QLD, but also to the folk in Princetown, Venus Bay, Alstonville, Penshurst, Creswick, Maryborough (QLD), and several new Melbourne counters.
We had the most unusual September survey of any year since monitoring began in 2014-2015. I put this down to the very dry conditions inland, especially in NSW, and the load of rain in southern areas, particularly SW Victoria and SE South Australia. I'm guessing that snipe have overflown these dry regions and come south earlier than normal.
The total count of snipe was 1188, which is absolutely unprecedented for this time of the year. That biggest totals were from Fox Lakes in Robe (147), Evelyn Drive in Sale (115), BARC wetlands in Bairnsdale (50), Begola wetlands in Ocean Grove (65), Smithton, nth TAS (51), Peterborough (76), Powling Street (50), Venus Bay (87), and Silverleaves, Phillip Island (80). Quite a few extra birds were picked up as a result of the new sites, although the total number of sites didn't increase much from the previous year – see graph below (black bars total count, green line number of sites). There were also a handful of sites, particularly in SA, that I haven't heard any word about. So not sure if there were counted or not.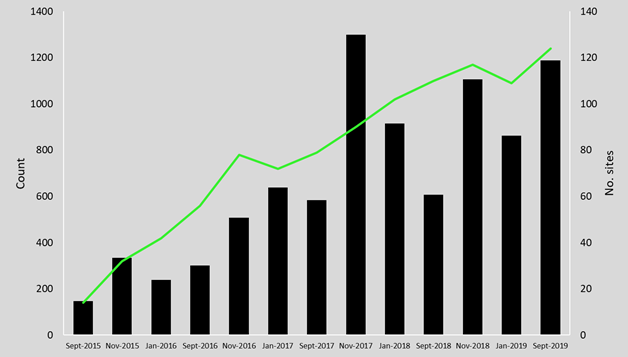 State totals
| | |
| --- | --- |
| ACT | 38 |
| VIC | 773 |
| TAS | 84 |
| SA | 147 |
| NSW | 118 |
| QLD | 28 |
So I'd just like to express my gratitude once again to everyone who helped out to achieve such a fantastic count. We may see numbers increase in November and drop off again in January. It will depend on what the weather does and therefore, where the snipe go.
Just a reminder that the next count is scheduled for November 16. Hope you can all help out again!
Cheers
Birgita
PS. As always if you want to be removed from the regular email circulars please let me know.
Also, there are a few people in QLD and in Penshurst whom are not on the regular snipe email list, and whom I added separately to this email. Please let me know if you wish to be added
Dr Birgita Hansen
Research Fellow
Centre for eResearch and Digital Innovation
Federation University Australia | Mount Helen | Suite 15 | Greenhill Enterprise Centre
PO Box 691 Ballarat Vic 3353
Treasurer
Australasian Wader Studies Group
Telephone +61 3 5327 9952 | Mobile 0428 591 810
www.lathamssnipeproject.wordpress.com