| | | |
| --- | --- | --- |
| | canberrabirds | |
FW: [canberrabirds] Also at Isabella pond
| | |
| --- | --- |
| To: | "" <> |
| Subject: | FW: [canberrabirds] Also at Isabella pond |
| From: | Geoffrey Dabb <> |
| Date: | Thu, 10 Oct 2019 01:59:24 +0000 |
As mentioned below …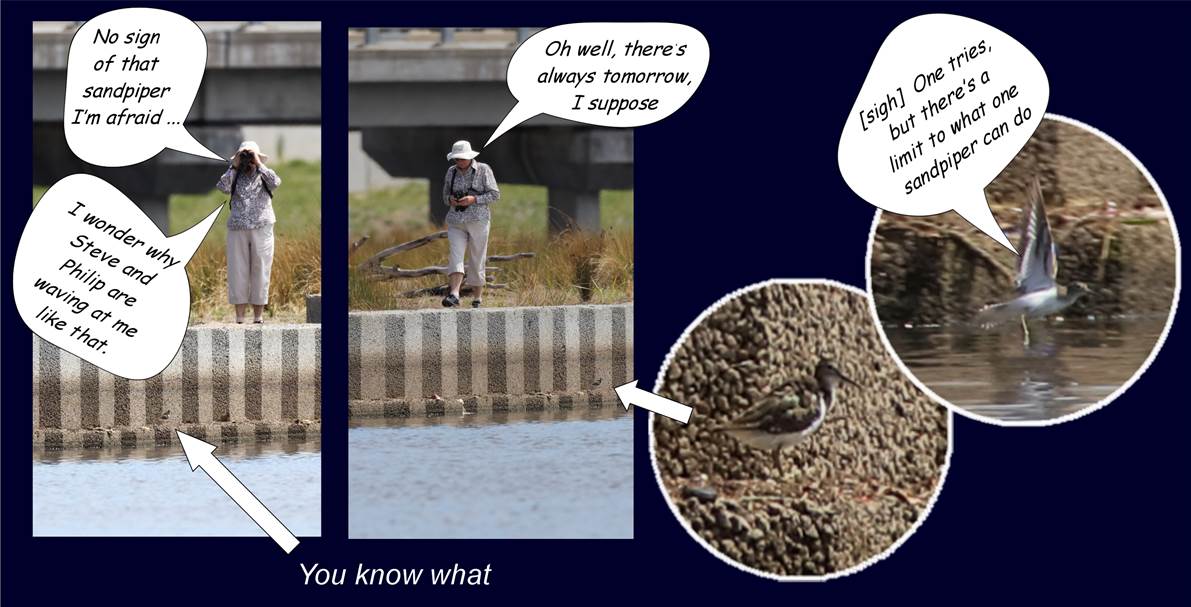 From: Lia Battisson <>
Sent: Monday, 7 October 2019 9:35 PM
To: 'Geoffrey Dabb' <>
Subject: RE: [canberrabirds] Also at Isabella pond
By all means Geoffrey, it just goes to prove my bad luck with rarities!
From: Geoffrey Dabb
Sent: 7 October 2019 3:54 PM
To: Lia Battisson <>
Subject: FW: [canberrabirds] Also at Isabella pond
Lia - I think my distant photo should be posted for the record, if you've no objection? g
From: Philip Veerman <>
Sent: Monday, 7 October 2019 2:26 PM
To: 'shorty' <>; 'sandra henderson' <m("gmail.com","shirmax2931");">>
Cc: 'COG Chat' <>
Subject: RE: [canberrabirds] Also at Isabella pond
Yes a whole crowd assembled to see this bird. Nice opportunity. Not especially easy as it crossed from one side and length of the pond to the other a few times. Surely lots of photos were taken. Strangest thing was Lia walked about a metre past it, not knowing, because it was perched on the lower side of the wall, whilst we watched this from far away, having watched it fly across.
Philip
From: shorty
Sent: Monday, 7 October, 2019 11:11 AM
To: sandra henderson
Cc: COG Chat
Subject: Re: [canberrabirds] Also at Isabella pond
Thanks Sandra, got the Common Sandpiper👍
On Mon, 7 Oct 2019, 09:45 sandra henderson, <> wrote:
A possible common sandpiper

Still not great on IDiing these waders. Pre White under, bobbing continuously. Again, on Isabella side now, but very wary and flying several times across pond can't get close enough for phone photo
Admin
The University of NSW School of Computer and Engineering takes no responsibility for the contents of this archive. It is purely a compilation of material sent by many people to the Canberra Ornithologists Group mailing list. It has not been checked for accuracy nor its content verified in any way. If you wish to get material removed from the archive or have other queries about the list contact David McDonald, list manager, phone (02) 6231 8904 or email . If you can not contact David McDonald e-mail Andrew Taylor at this address: andrewt@cse.unsw.EDU.AU