| | | |
| --- | --- | --- |
| | canberrabirds | |
A deviant Crimson Rosella
| | |
| --- | --- |
| To: | "" <>, "" <> |
| Subject: | A deviant Crimson Rosella |
| From: | Philip Veerman <> |
| Date: | Sun, 1 Sep 2019 06:14:29 +0000 |
Just on the photo, I would suggest it is a hybrid Eastern/Crimson Rosella, rather than a "deviant". It does show rather more Crimson type plumage than most hybrids but even so is not overly unusual for the hybrid type. Maybe it is a second generation hybrid as in child of a Crimson Rosella and a first generation hybrid Eastern/Crimson Rosella.
Philip
From: Robin Eckermann [
Sent: Sunday, 1 September, 2019 3:52 PM
To:
Subject: [canberrabirds] A deviant Crimson Rosella
This fellow - first posted to the chatline about a year ago - has become a regular visitor to our garden - most likely nesting nearby with its partner.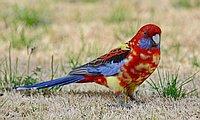 (Click on thumbnail for higher res image)

A theory floated at the time was that the yellow colour was symptomatic of a pigment deficiency.
--
Regards ... Robin
Phone: 02-6161-6161 (w) 0418-630-555 (m)
---
Admin
The University of NSW School of Computer and Engineering takes no responsibility for the contents of this archive. It is purely a compilation of material sent by many people to the Canberra Ornithologists Group mailing list. It has not been checked for accuracy nor its content verified in any way. If you wish to get material removed from the archive or have other queries about the list contact David McDonald, list manager, phone (02) 6231 8904 or email . If you can not contact David McDonald e-mail Andrew Taylor at this address: andrewt@cse.unsw.EDU.AU