| | | |
| --- | --- | --- |
| | canberrabirds | |
Grey Butcherbird
| | |
| --- | --- |
| To: | 'Geoffrey Dabb' <>, "" <> |
| Subject: | Grey Butcherbird |
| From: | "" <> |
| Date: | Thu, 29 Aug 2019 04:43:24 +0000 |
Very interesting Geoffrey, Wilf Hedley informed me this morning that Grey Butcherbirds had built a nest in his backyard in Rivett. This is similar timing to 2017 when he had a rare example of successful double nesting for this species. We wrote up together in CBN, so I'm very interested to see if it happens again. I'm also interested if any young birds help at the nest, as they appeared to do in 2017, which also seems to be rare.
Jack Holland
From: Geoffrey Dabb <>
Sent: Thursday, 29 August 2019 1:16 PM
To:
Subject: [canberrabirds] Grey Butcherbird
A pair is showing signs of nesting in the small neighbourhood park of Rocky Knob. They are of a confiding nature, coming to the backdoor for a scrap of flung meat. Below snap taken just now of the pair in the Feijoa tree from 2m away. The upper out of focus bird has the dusky plumage of a younger bird. Their catching ability while on the wing is remarkable. A piece of flung mince from 2m is taken at the mid-point (ie 1m from the flinger)and the bird is able to reverse direction with a couple of wingbeats before flying quickly away..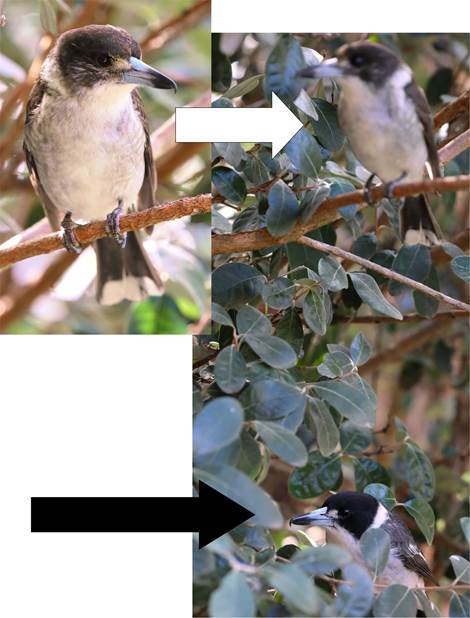 Admin
The University of NSW School of Computer and Engineering takes no responsibility for the contents of this archive. It is purely a compilation of material sent by many people to the Canberra Ornithologists Group mailing list. It has not been checked for accuracy nor its content verified in any way. If you wish to get material removed from the archive or have other queries about the list contact David McDonald, list manager, phone (02) 6231 8904 or email . If you can not contact David McDonald e-mail Andrew Taylor at this address: andrewt@cse.unsw.EDU.AU