| | | |
| --- | --- | --- |
| | canberrabirds | |
FW: [canberrabirds] Our Canberra
| | |
| --- | --- |
| To: | "" <> |
| Subject: | FW: [canberrabirds] Our Canberra |
| From: | Geoffrey Dabb <> |
| Date: | Sun, 19 May 2019 03:56:06 +0000 |
Excellent Don. Yes Mount Majura in the background with that belt of radiata pine on the lower slopes was the clue. The radar tower is just visible. For the out of town subscriber, Majura at 890m is the highest of the hills within the Canberra bubble, as Canberra's urban extent is sometimes called. A couple of entries suggested Cotter Dam but that is more like 17km from the parliament.
The actual spot was a corner of the airport perimeter fence near the 17th tee at Fairbairn golf course.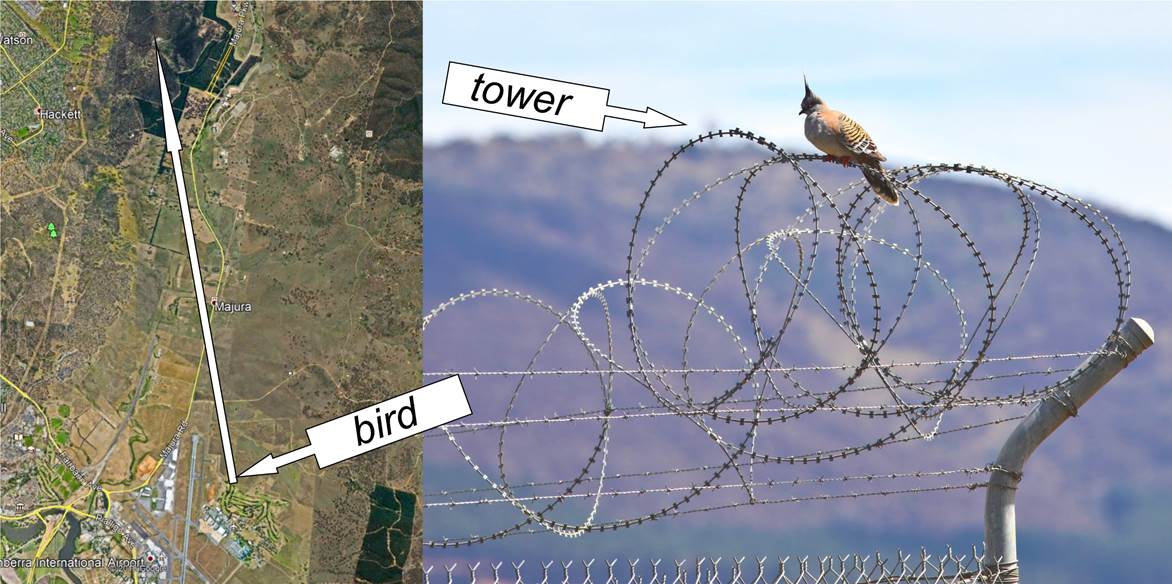 From: Don Fletcher <>
Sent: Sunday, 19 May 2019 12:31 PM
To: 'Geoffrey Dabb' <>
Cc: 'COG List' <>
Subject: RE: [canberrabirds] Our Canberra
Looks like Mt Majura in background, so airport security fence.
Don Fletcher
0428 48 9990
From: Martin Butterfield <>
Sent: Sunday, 19 May 2019 12:15 PM
To: Geoffrey Dabb <>
Cc: COG List <>
Subject: Re: [canberrabirds] Our Canberra
On Sun, 19 May 2019 at 10:08, Geoffrey Dabb <> wrote:
<Prev in Thread]
Current Thread
[Next in Thread>

FW: [canberrabirds] Our Canberra, Geoffrey Dabb <=
Admin
The University of NSW School of Computer and Engineering takes no responsibility for the contents of this archive. It is purely a compilation of material sent by many people to the Canberra Ornithologists Group mailing list. It has not been checked for accuracy nor its content verified in any way. If you wish to get material removed from the archive or have other queries about the list contact David McDonald, list manager, phone (02) 6231 8904 or email . If you can not contact David McDonald e-mail Andrew Taylor at this address: andrewt@cse.unsw.EDU.AU