| | | |
| --- | --- | --- |
| | canberrabirds | |
Rainbow Lorikeet breeding
| | |
| --- | --- |
| To: | COG Chat <> |
| Subject: | Rainbow Lorikeet breeding |
| From: | shorty <> |
| Date: | Sun, 19 May 2019 03:05:51 +0000 |
I was at Justice Robert Hope Park this morning and i spotted a RL fly into a hollow. When i got closer i could hear a chipping call coming from the hollow. After a while 2 birds emerged then flew to a nearby tree so i quickly moved away from the hollow and 1 bird flew straight back into the hollow and the other bird flew away.
I stayed about another 10-15 minutes and the bird stayed in the hollow the whole time.
The photo attached shows the bird on the right with tatty chest feathers, i assume this is from nesting?
Shorty
Attachment: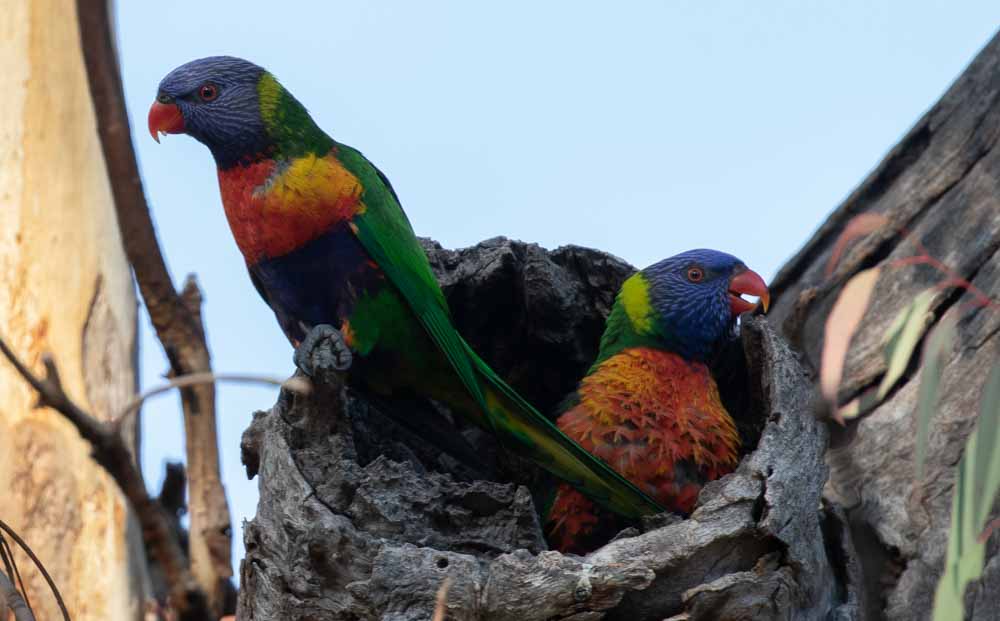 Description: rainbow lorikeet (Trichoglossus moluccanus)-2562.JPG

ATT00001.txt
Description: ATT00001.txt
<Prev in Thread]
Current Thread
[Next in Thread>

Rainbow Lorikeet breeding, shorty <=
Admin
The University of NSW School of Computer and Engineering takes no responsibility for the contents of this archive. It is purely a compilation of material sent by many people to the Canberra Ornithologists Group mailing list. It has not been checked for accuracy nor its content verified in any way. If you wish to get material removed from the archive or have other queries about the list contact David McDonald, list manager, phone (02) 6231 8904 or email . If you can not contact David McDonald e-mail Andrew Taylor at this address: andrewt@cse.unsw.EDU.AU