| | | |
| --- | --- | --- |
| | canberrabirds | |
FW: FW: [canberrabirds] Parkwood update
| | |
| --- | --- |
| To: | "" <> |
| Subject: | FW: FW: [canberrabirds] Parkwood update |
| From: | Geoffrey Dabb <> |
| Date: | Sat, 16 Feb 2019 00:06:08 +0000 |
Thank you David, very interesting, at least to me. Apparently there is more information about the history of the ACT/NSW locality at the Hall Museum.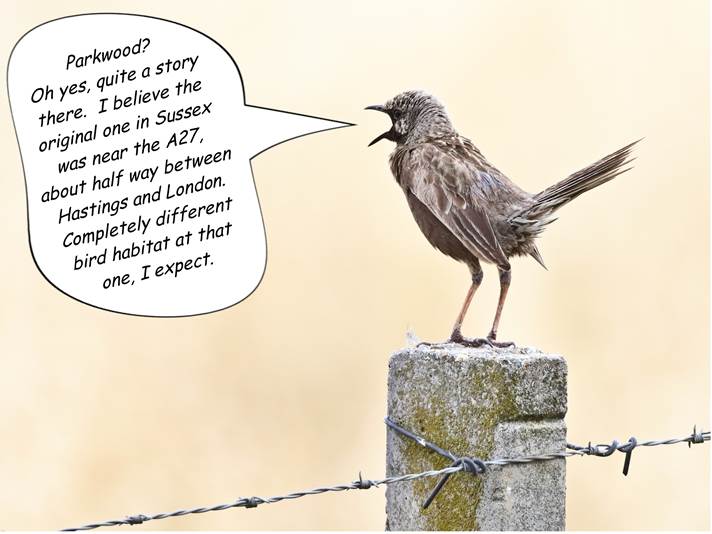 From: David McDonald (personal) <>
Sent: Friday, 15 February 2019 9:28 PM
To: Canberrabirds <>
Subject: Re: FW: [canberrabirds] Parkwood update
The ACT Govt Place Names folk advise as follows:

Parkwood
Alick Osborne, a Royal Navy surgeon, applied for permission to purchase land in January 1829; he eventually obtained an area of 987 acres on the Ginninderra Creek at its junction with the Murrumbidgee River; in 1854 he sold his land to Thomas Southwell, who named the property `Parkwood'. Named after Park Wood near Robertsbridge in England from whence the Southwells came.

Cheers - David
On 2019-02-15 14:42, Geoffrey Dabb wrote:
Speaking of going first, I was wondering about the naming process. Did the egg business take the name from the road, or perhaps from a property of that name served by the road? In other words, which came first, Parkwood or the Eggs?

>
Admin
The University of NSW School of Computer and Engineering takes no responsibility for the contents of this archive. It is purely a compilation of material sent by many people to the Canberra Ornithologists Group mailing list. It has not been checked for accuracy nor its content verified in any way. If you wish to get material removed from the archive or have other queries about the list contact David McDonald, list manager, phone (02) 6231 8904 or email . If you can not contact David McDonald e-mail Andrew Taylor at this address: andrewt@cse.unsw.EDU.AU