| | | |
| --- | --- | --- |
| | canberrabirds | |
FW: FW: [canberrabirds] See me after the talk 2
| | |
| --- | --- |
| To: | "" <> |
| Subject: | FW: FW: [canberrabirds] See me after the talk 2 |
| From: | Geoffrey Dabb <> |
| Date: | Fri, 12 Oct 2018 02:03:21 +0000 |
Ha, well, yes, good to see some life out there. Malurus if you prefer. But we know whom Maurice Blackburn will not be calling as witnesses for the plaintiffs on this occasion: M Butterfield, Jeannie Gray and Louis Jean Pierre Vieillot. The claimants point to HANZAB (2001) following Jobling (1991): 'malos' meaning 'soft, WEAK'.
From: Martin Butterfield <>
Sent: Friday, 12 October 2018 10:40 AM
To: Geoffrey Dabb <>
Subject: Re: FW: [canberrabirds] See me after the talk 2
Unless the forces of evil have snuck something past me, nice try no cigar. Its Malurus which Fraser and Gray define as "delicate tail"
( I had to do delete the image to reply within the size constraint).

On Fri, 12 Oct 2018 at 10:13, Geoffrey Dabb <> wrote: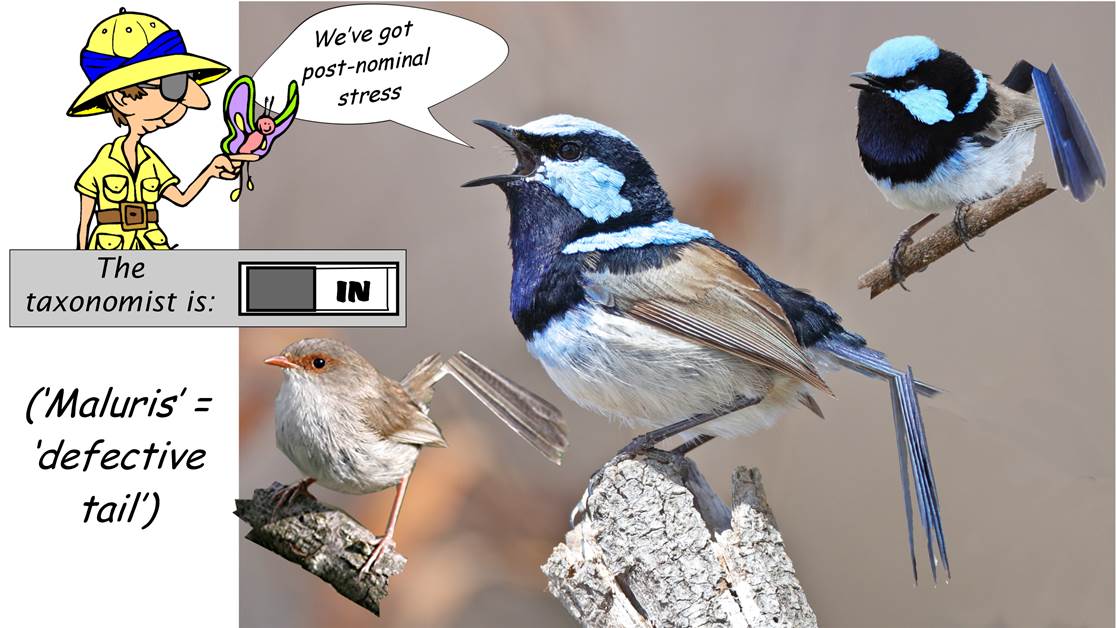 Admin
The University of NSW School of Computer and Engineering takes no responsibility for the contents of this archive. It is purely a compilation of material sent by many people to the Canberra Ornithologists Group mailing list. It has not been checked for accuracy nor its content verified in any way. If you wish to get material removed from the archive or have other queries about the list contact David McDonald, list manager, phone (02) 6231 8904 or email . If you can not contact David McDonald e-mail Andrew Taylor at this address: andrewt@cse.unsw.EDU.AU