| | | |
| --- | --- | --- |
| | canberrabirds | |
FW: [canberrabirds] off topic - view of Macquarie Island Base
| | |
| --- | --- |
| To: | "" <> |
| Subject: | FW: [canberrabirds] off topic - view of Macquarie Island Base |
| From: | Geoffrey Dabb <> |
| Date: | Thu, 11 Oct 2018 22:34:43 +0000 |
Gee, it gets pretty dark at night down there too. And note the below. If this fine shag were placed in Phalacrocorax, as some would prefer, it would be known as a cormorant under the 1978 principles (by Australians, but not by NZers).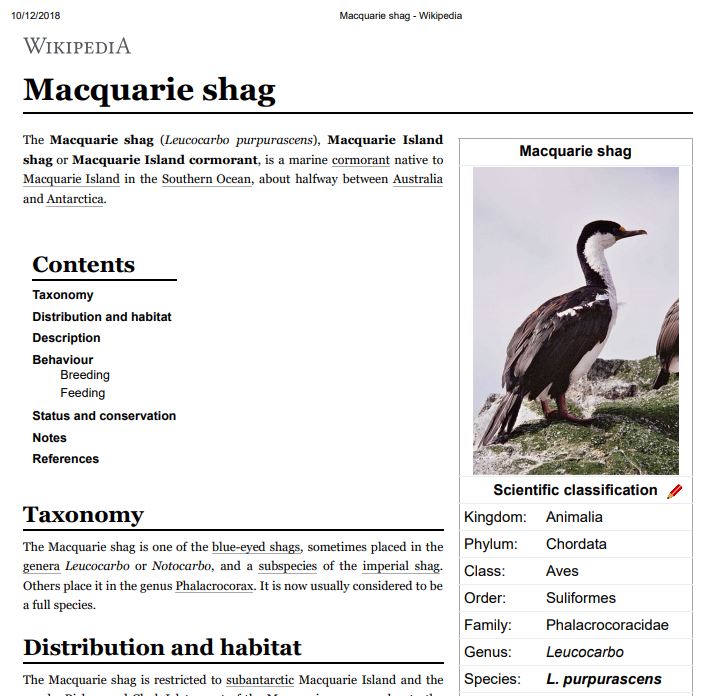 From: Martin Butterfield <>
Sent: Friday, 12 October 2018 9:03 AM
To: Sue Lashko <>
Cc: con <>; COG List <>
Subject: Re: [canberrabirds] off topic - view of Macquarie Island Base
Thanks Sue, the timelapse movie was particularly interesting!
For coverage of really non-benign weather (among many other reasons) I recommend reading "The Worst Journey in the World" by Cherry Apsley Gillard. This is the story, by a member of the expedition, of Scott's expedition to the Antarctic. Some of the temperatures he records are below -60C, with howling gales. There can be no argument with the title of the book, which is available in the ACT Library system.
On Thu, 11 Oct 2018 at 20:56, Sue Lashko <> wrote:
and this shows you what is like when the weather is not so benign. Note the temp and wind speed in the bottom corners of the screen.

On Thu, 11 Oct 2018 at 17:15, Con Boekel <> wrote:

The link has no visible birds in it but for those who might be curious
about what the base looks like and a sweeping tour of the Island, this
is fairly special.


https://www.tourview.com.au/macca.html



*******************************************************************************************************
This is the email announcement and discussion list of the Canberra Ornithologists Group.
Emails posted to the list that exceed 200 kB in size, including attachments, will be rejected.
All emails distributed via the list are archived at http://bioacoustics.cse.unsw.edu.au/archives/html/canberrabirds. It is a condition of list membership that you agree to your contributions being archived.
When subscribing or unsubscribing, please insert the word 'Subscribe' or 'Unsubscribe', as applicable, in the email's subject line.
List-Post: <>
List-Help: <>
List-Unsubscribe: <>
List-Subscribe: <>
List manager: David McDonald, email <>
<Prev in Thread]
Current Thread
[Next in Thread>

FW: [canberrabirds] off topic - view of Macquarie Island Base, Geoffrey Dabb <=
Admin
The University of NSW School of Computer and Engineering takes no responsibility for the contents of this archive. It is purely a compilation of material sent by many people to the Canberra Ornithologists Group mailing list. It has not been checked for accuracy nor its content verified in any way. If you wish to get material removed from the archive or have other queries about the list contact David McDonald, list manager, phone (02) 6231 8904 or email . If you can not contact David McDonald e-mail Andrew Taylor at this address: andrewt@cse.unsw.EDU.AU